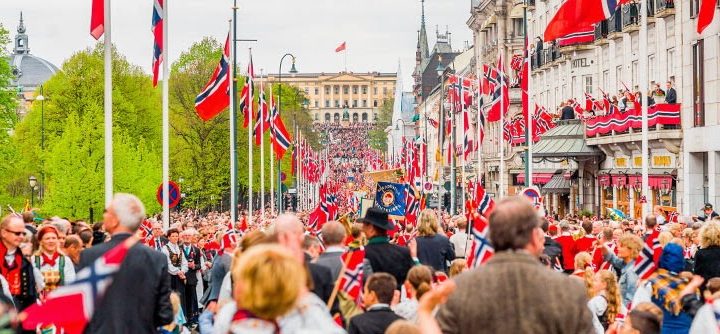 Today is Norway's national day, or Constitution Day. Today, children all over the country will participate in local parades that visit memorials, retirement homes, and civil centers.
The largest parade is in Oslo, Norway's capital, and over 100 schools and their marching bands will participate. The procession will pass the royal palace where the royal family will greet people from the main balcony.
The festivities will be broadcast on Norwegian TV, and on smaller screens, today's Doodle joins in the national pride. It shows the Eidsvoll — the historic building where the Norwegian Constitution was written.
Happy syttende mai, Norway!
1. Before 1814 Norway had been in a union with Denmark. After the end of the Napoleonic Wars in 1814 it entered an alliance with Sweden until 1905.
2. Since 1864, May 17 has also been Children's Day in Norway, with parades and a tradition that children may eat as much ice cream as they want.
3. In the Eurovision Song Contest, Norway has scored "nul points" four times but Finland has finished last more often.
4. Norwegians are said to spend more time reading than any other nation.
5. There is a town called Hell in Norway.
6. In 1995 a court in Norway became the first in the world to convict a person of being drunk in charge of a lawnmower.
7. Oslo, Norway, is the third most northern capital city of an independent country, behind Reykjavik, Iceland, and Helsinki, Finland.
8. In 2008 Norway became the first non-English speaking country to host the Golden Shears World Championship for sheep shearing.
9. In the 13th century King Haakon IV of Norway gave polar bears to fellow monarchs he liked.
10. One such polar bear was given to Henry III of England and kept in the Tower Of London.