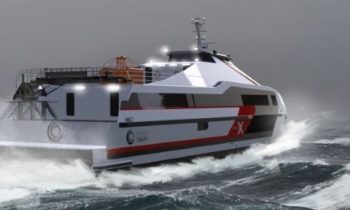 In the last 18 months, a number of new designs have been launched in the market for high-speed crew transfer – the latest is based on an evolved version of a hullform used on the Royal Norwegian Navy's fast missile craft
Umoe Mandal in Norway has developed a further version of its Wavecraft Voyager family, the Voyager 38 X, a high-performance crew transfer vessels for the offshore oil and gas sector.
Based on technology originally developed and used by Umoe Mandal for military applications, the Wavecraft Voyager 38 X was designed to reduce transit time, enhance passenger comfort, safety and efficiency and reduce costs compared with existing designs.
The Royal Norwegian Navy's Skjold-class missile craft make use of the same air-cushion catamaran/surface-effect ship technology. The same hullform was also used on the Royal Norwegian Navy's Oksøy-class minehunters and minesweepers. As with the commercial versions of the design, the reduced wetted surface of the hullform significantly reduces wave resistance compared to a conventional hull configuration.
The Voyager 38X makes use of enhanced air-cushion catamaran/surface-effect ship technology combined with a sophisticated motion control system that compensates for vertical wave motion, offering comfortable transit and safe access to other vessels and installations offshore. The vessel can be fitted with a gangway and a SeaSpyder personnel transfer system.
The vessel is designed to transport 150 passengers and a crew of six at speeds of up to 55 knots, with excellent seakeeping, even in high sea states, good fuel efficiency and reduced emissions.
The Voyager 38 X can be delivered in accordance with the requirements of all major classification societies and complies with US Coast Guard and ABS A1 HSC Crew boat, Circle E + AMS + DPS-2 classification. Applying the latest in high-speed diesel engine and SCR technology, the Voyager 38 X meets stringent environmental standards and complies with EPA Tier 4 requirements.
In December 2017, the company announced that, as part of the MAROFF-2 programme for research, innovation and sustainability in the marine and offshore industries, Umoe Mandal had been granted funding for further development of the Wavecraft design concept for the offshore oil and gas sector.
Umoe Mandal said it would focus on optimising the concept, focusing on the most important hull parameters in order to reduce the weight of the hull and hence reduce fuel consumption and emissions. Other focus areas will include enhanced propulsion solutions and fire safety. The company said it planned to use a number of different techniques, including simulation, model testing, computational fluid dynamics and finite element modelling.
The overall objective of the project is to further develop the surface-effect ship and air-cushion catamaran technology used in the Wavecraft in order to develop a more competitive vessel with regard to construction and operating costs.
Umoe Mandal partnered with the Research Council of Norway on an earlier MAROFF project developing the Wavecraft concept for use as a high-speed crew transfer vessel for the renewable energy industry. The MAROFF programme aims to support and provide funding for Norwegian companies and research institutions.
Earlier in 2017, Umoe Mandal developed other versions of the Wavecraft, including the Voyager 32 and Voyager 38W2W (in which W2W stands for walk-to-work) for the offshore oil and gas sector.
The company has also incorporated class 2 dynamic positioning into its designs. This optional feature is intended to meet customer and regulatory requirements whilst improving the safety of crew transfer to/from rigs and other offshore installations. As the company also noted, DP2 will also provide Wavecraft vessels with greater operational freedom in congested environments, such as in offshore windfarms or where other vessels and installations may be present.
(N.Sethu, osjonline)