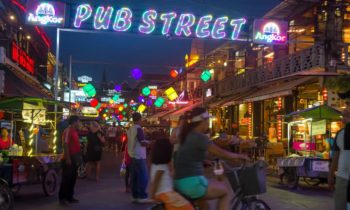 Seven of the 10 foreigners arrested on pornography charges after a pool party in the Cambodian tourist town of Siem Reap have been deported, a court official said on Monday.
Police accused the group of "singing and dancing pornographically" after their arrest two weeks ago at a party in a private villa in Siem Reap, the launchpad for visitors heading to Cambodia's famed Angkor Wat temples.
A Siem Reap court charged them with producing pornographic pictures and materials and a prosecutor said party organisers circulated obscene images online to promote the bash.
The group of Five Britons, two Canadians, a Norwegian, a New Zealander and a Dutch national faced up to a year in prison but their lawyer sought and received bail for seven of them on grounds that they had not organised the party.
Court spokesman Yin Srang said on Monday that the court "deported them from the country" as part of the bail decision, although the charges against them have not been formally dropped.
"They have left Cambodia. We gave them back their passports," he said.
Their lawyer Ouch Sopheaktra confirmed that the seven had left the country and said he had no plan to ask for bail for the remaining three, a British, Dutch and Norwegian national.
All 10 defendants denied the allegations, saying only that they were wearing "sexy" clothing but were not nude and had not produced pornography.
Authorities have yet to announce a date for the trial.
Cambodia is a largely Buddhist country and the temples of Angkor Wat are considered sacred, leading to arrests of foreigners for taking racy photos at the ruins and a ban on wearing skimpy clothing there in 2016.
But the gateway town of Siem Reap where the party took place has a lively nightlife and many bars and restaurants.
(theguardian)