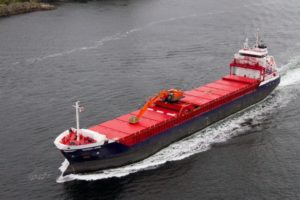 The general cargo ship Nordfjord ran aground off Kopervik, Norway. The freighter was en route to Sandnes in Norway with 5,500 tonnes of sand, but left the fairway and contacted the bottom just below Coop Extra at Moksheim. The crew succeeded to refloat the ship just a few minutes after the grounding, but it was estimated that suffered breaches below the waterline, suffering slight water ingress in the forepeak. The accident was reported to the local authorities and the freighter Nordfjord was ordered to head Kopervik for special survey and underwater inspection. The vessel will remain at the port for repairs before return in service and resume the voyage.
The local authorities initiated investigation for the root cause of the accident. The police routinely took blood alcohol samples of the duty officer, which was negative. Fortunately during the accident there were no reported injuries and no water pollution.
The general cargo ship Nordfjord (IMO: 9341732) has overall length of 109.00 m, moulded beam of 14.00 m and maximum draft of 6.20 m. The deadweight of the freighter is 6,000 DWT and the gross tonnage is 3,990 GRT. The vessel was built in 2006 by Ferus Smit Scheepswerf in Hoogezand, Netherlands.
(maritimeherald)