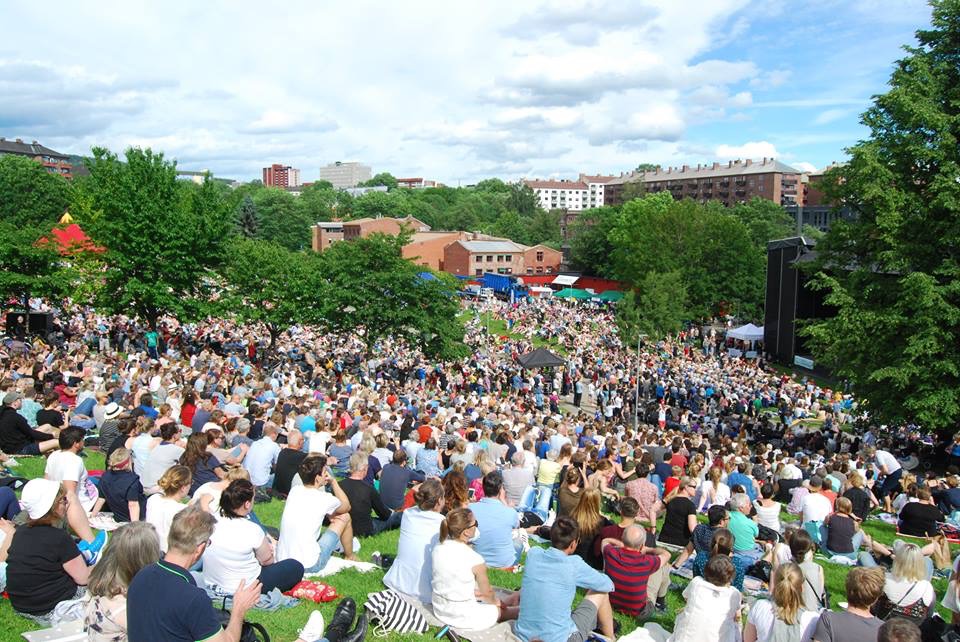 Photo credit Ragnar Time, 2017.
Many people in Norway are looking forward  to this yearly Summer Sunday event with free admission hosted  by Sagene Sommer Concerts and Oslo-Philharmonic Orchestra, this year also together with the Oslo Philharmonic Choir and Swedish guest violinist Johan Dalene. Guest conductor in 2018 is the young Tung-chieh Chuang from Taiwan. The weather forecast for Sunday says rain in the morning,  but cloudy in the afternoon when the concert starts at 3 p.m.  According a Facebook notice more the 19000 people have showed interest to attend this event sitting on the green lawns of the Myraløkka park along the Aker River between Sagene and Torshov in Oslo.
– We guarantee a varied program and a summery atmosphere. Bring friends and acquaintances, a blanket and a picnic blanket, a dog and a grandmother. Food and drinks are sold on site. Welcome to everyone, the organizer says.
Program for the concert:  
Orff: "O Fortuna" from Carmina Burana (with choir)
Grieg: Norwegian Dance  nr.2
Tchaikovsky: Violin concert No. 3
Monti: Czardas                                                                                                                                                                                                       Borodin: Polovetsian Dances (with choir)                                                                                                                                                    Verdi: Chorus of the Hebrew Slaves (with choir)
Halvorsen: Entry March of the Boyars
Grieg: In the Hall of the Mountain King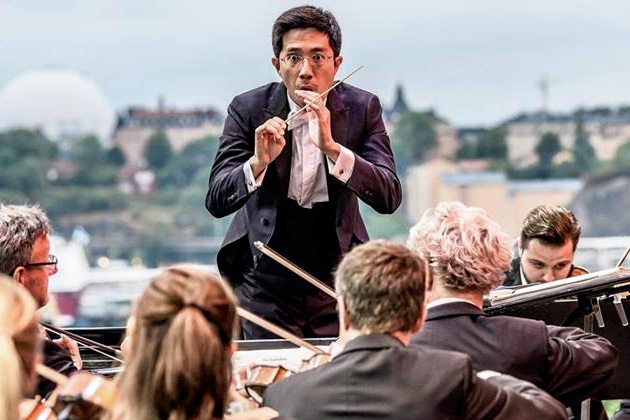 Tung-Chieh Chuang conducting outdoor in Sweden last year.
Tung-chieh Chuang was born in 1982 into a family of professional musicians in Taipei, Taiwan. He showed great musical promise from an early age and learned early to play horn and piano, giving his first public concert at age 11. He studied at the Curtis Institute in Philadelphia and at the Weimar Academy of Music. His mentors include Mark Gibson, Gustav Meier, Otto-Werner Mueller and Nicolás Pasquet.  He has some awards and is often guest conductor in Europe and Asia. In October 2016 he  conducted the Qatar Philharmonic Orchestra on a tour in China. Today he lives with his wife and two years old child in Berlin. He hopes in the future to start his own orchestra.
– This will be my 4th time to Norway. I have been to Bergen and Trondheim. Greatly looking forward to working with the Oslo Phil ,  Tung-Chieh Chuang says.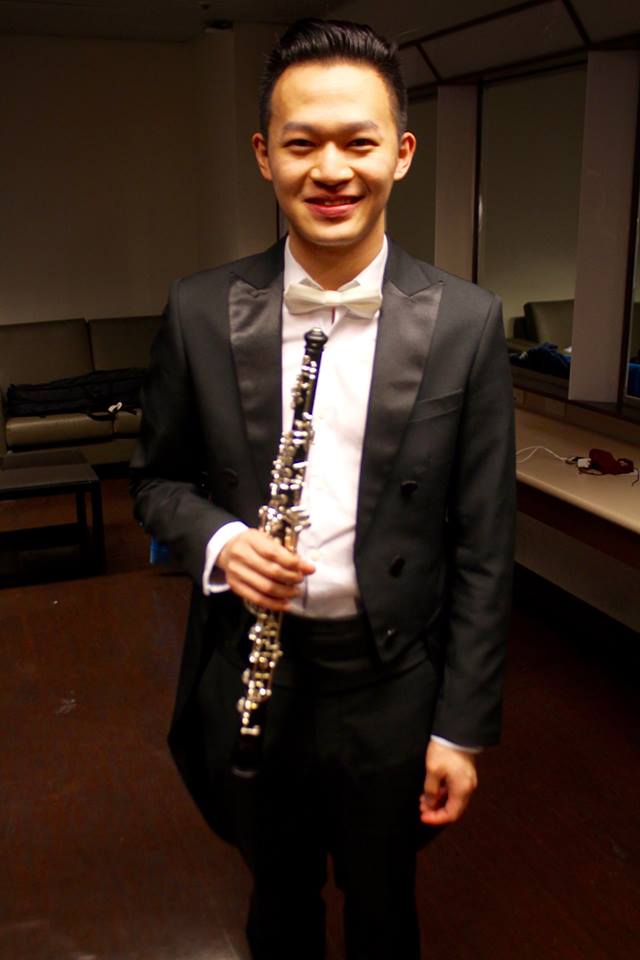 Once on a transfer to Romania he met a student of  Hochschule für Musik und Theater München,  Min Hua Chiu from Taichung, Taiwan.
And I met the same Min-hua Chiu in Taipei (photo left) when Oslo Philharmonic was back to Hong Kong and Taipei in March 2017.
– After 3 years study in Germany, Chiu told me last year.  – I did the audition for co-principal in June 2016 and went through the final. The job wasn't given, but I was very lucky to be offered a one-year-contract for 2nd oboe full time.  After a few months I found that I love Norway and the job so much, so I will definitely do the auditions again. Now he wrote me from Oslo: – I just passed my probation and am going to live here for good!
Now he is looking forward to being conducted by his countryman Tung-Chieh Chuang.
– We both  joined to the same military band in Taiwan, but not at the same time, Min-hua Chiu said.
– So we never met in Taiwan. 
China Times ,Taiwan, had an article about Tung-chieh Chuang going to Norway.