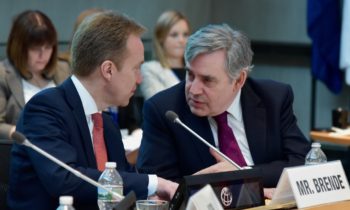 *'HUMANITARIAN 100' OFFERS BREAKTHROUGH HOPE FOR DISPLACED AND DISASTER-AFFECTED CHILDREN
 
*OSLO SUMMIT DELIVERS ON PROMISE AS NEW GLOBAL EDUCATION IN EMERGENCIES FUND TO BE LAUNCHED AT FIRST WORLD HUMANITARIAN SUMMIT IN ISTANBUL
*EDUCATION COMMISSIONERS ANNOUNCE SUPPORT FOR NEW FINANCING FOR EDUCATION IN EMERGENCIES
*UN EDUCATION ENVOY GORDON BROWN CHALLENGES WORLD TO WAKE UP TO 'FULL-BLOWN CRISIS' AND COSTS OF A LOST GENERATION DENIED SCHOOLING
More than 100 of the world's leading countries, companies and philanthropists are to join forces to create a 'major breakthrough' in the fight to provide education for millions of children displaced by conflicts and natural disasters.
The new 'Education Cannot Wait' fund is being launched next week at the World Humanitarian Summit in Istanbul. Establishment of the fund was agreed last July at the Oslo Summit on Education for Development.
United Nations Special Envoy Gordon Brown says action now has to happen urgently because this is becoming a "full-blown global crisis" that will haunt the world for generations with 20 million school-age child refugees or displaced persons denied an education.
Speaking to correspondents at UN Headquarters in New York, Brown said that the new fund could be the only chance to save a generation lost to war, child marriage, forced labour and the recruiters for violent extremism.
Mr. Brown will urge Western leaders, in particular, to step up to the plate and act now.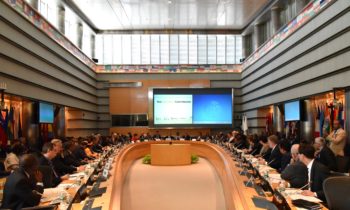 GLOBAL LEADERS BACK CREATION OF GROUNDBREAKING NEW FUND
The fund – a historic, global first that will seek substantial sums from governments and business – is being hailed as a 'game changer' in urgently targeting the needs of 30 million displaced children – the largest population of uprooted girls and boys since 1945.
These 30 million make up some of the 75 million children and youth who have seen their education severely disrupted because of conflicts, natural disasters and other crises.
Mr. Brown will unveil support from UN Secretary General Ban Ki Moon and a number of world leaders, including Graça Machel.
International Commission on Financing Global Education Opportunity Commissioner Amel Karboul, Secretary-General of the Maghreb Economic Forum and Former Minister of Tourism of Tunisia, has also enthusiastically backed the new fund:
She said: "We talk about securing the future of global education by disrupting education – changing the narrative and how we secure rights for millions of out-of-school children. With the launch of Education Cannot Wait, this is what we mean.
"I hope this will be but the first achievement in the march towards making education disruptions during emergencies a thing of the past. And I hope the international community will join us in seeing this promise come to fruition."
The goal is to recruit 100 major donors – from philanthropic foundations and the business sector as well as governments and international agencies.
Education Cannot Wait has been three years in the making. It will fill the gap where education falls through the net – between humanitarian aid, which focuses on food and shelter, and development aid, which is by definition focused on the long-term.
Official figures from UN OCHA show that education aid secures less than TWO PER CENT of emergency funding.
The new fund has unique features: 
• It will offer not weeks of educational emergency help but up to FIVE YEARS, recognising that the average time a refugee is out of their country is more than 10 years.
• It will have private sector, foundation and philanthropic windows and will be the first comprehensive education public partnership in humanitarian aid.
• It will engage philanthropic companies in innovative solutions to deliver education, including bold experiments in online education to help refugees in camps and those holed up in hovels, huts and tents.
The ultimate aim for Education Cannot Wait is to transform humanitarian aid for the future.
Mr. Brown, the UN Special Envoy for Global Education, said: 
"This is a lost generation we must help urgently. We live in a world where refugee needs are not temporary, with many spending more than a decade out of country.
"For too long we have neglected the education of young people in conflict zones – at the cost of making youth the recruits for terrorist groups and their parents the most likely to leave and seek a better future for their children in Europe or America.
"When we ask ourselves what breaks once-thriving young children, it is not just the Mediterranean wave that submerges the life vest, nor the food convoy that does not make it to Madaya in Syria. It is also the absence of hope – the soul-crushing certainty that there is nothing ahead to plan or prepare for, not even a place in school."
Many businesses have already agreed to take part alongside many of the world's top aid donors. Individual philanthropists have also been approached.
The new fund will build on the recent Syrian initiative promising one million Syrian refugees schooling in Turkey, Lebanon and Jordan but it will also occur in Nepal where 900,000 children are out of school because of the earthquake emergency, in South Sudan where one third of children are denied schooling and in Nigeria where Boko Haram have closed 5,000 schools.
Further support has come from Yuriko Koike, Member of the House of Representatives (Japan) and Former Japanese Minister of Defense, also a member of The Education Commission.
Yuriko Koike said: "Today, 75 million school-age children are affected worldwide by wars, conflicts and natural disasters. Given that half of them are girls, some are subjected to being sold and some give birth to new refugees due to a lack of knowledge about contraception.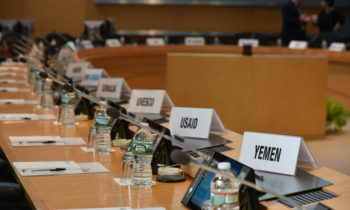 "It is urgent that we ensure their access to education while delivering food, water, shelter and protection. The international community and the public must contribute to Education Cannot Wait — an embrace innovative new ways of financing — to harness public and private resources for education in emergencies.
Jakaya Kikwete, former President of Tanzania and member of The Education Commission said: "In times of conflict and disaster, we must prioritize education. We can no longer be complacent with business as usual. The new education in emergencies fund will bridge the humanitarian-development divide to provide life-saving education.
Bilateral and multilateral donors must fully finance this initiative because "education cannot wait."
His call was backed up by Justin W. van Fleet, Director of the International Commission on Financing Global Education Opportunity and Chief of Staff to the UN Education Envoy, who said: Education Cannot Wait will be a new, historic fund to deliver education in emergencies and realise the long-awaited promise for children and youth impacted by crises and conflict. The ambitious fund will be aimed squarely at bucking the trend in the growing number of refugees, displaced persons and children locked out of opportunity during circumstances beyond their control – whether it be earthquakes, floods, outbreaks or armed conflict."
The Commission is co-convened by Prime Minister Solberg (Norway), Presidents Bachelet (Chile), Widodo (Indonesia), Mutharika (Malawi) and UNESCO Director-General Bokova.