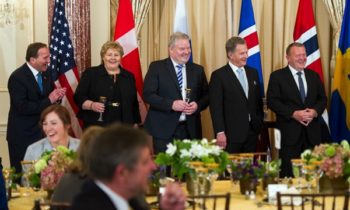 Earlier this month, the leaders of Iceland, Norway, Sweden, Denmark and Finland were in Washington to attend a summit at the White House. Together with President Barack Obama, the five Nordic leaders discussed tensions with Russia, security, climate change and trade. Obama didn't hesitate to heap praise on the Nordics. "So I really do believe that the world would be more secure and more prosperous if we just had more partners like the Nordic countries," he said. "They consistently punch above their weight."
Obama speaking so highly of the Nordic countries is nothing new. He has lauded them for years, and as he told an interviewer, "if only everyone could be like the Scandinavians, this would all be easy."
But can the Nordic countries translate all this into lasting influence in their own neighborhood? With the exception of Iceland, which is neither a member of the European Union or NATO, these countries have increasingly found themselves at the center of several important security and political debates in Europe today, especially the refugee crisis and growing tensions with Russia.
The Nordics are on the front lines of Russian aggression: Russian fighter jets have illegally entered Swedish and Finnish airspace on numerous occasions, and Finland shares an 800-mile border with Russia. NATO has responded to Russia's behavior by building up its eastern flank and holding military exercises in the region. While Norway and Denmark are NATO members, Sweden and Finland are not, though they have developed close ties to the organization, participating in joint exercises and sharing intelligence. Sweden and Finland's foreign ministers even attended the NATO foreign ministers meeting in Brussels last Friday.
But despite this increased cooperation, both Sweden and Finland have ruled out NATO membership, at least for now. "The changing security environment really has both Finnish and Swedish leaders worried. At the same time, there is a dawning realization that joining NATO may not be so easy at the moment, as it may draw pressure from Russia," explains Magnus Nordenman, the deputy director of the Brent Scowcroft Center on International Security at the Atlantic Council, in an email interview.
Russian Foreign Minister Sergey Lavrov told a Swedish newspaper last month that if Sweden were to join NATO, Russia would "be forced to take the relevant technical, military measures in our northern territories." Around the same time, the Finnish government released a report that said potential NATO membership would spark a serious crisis between Russia and NATO.
Beyond NATO, the Nordic states have recognized the importance of boosting their own security and political ties. Bilateral cooperation has steadily grown in recent years, though it is still "characterized by 'cobweb integration,'" according to Anders Wivel, a professor at the University of Copenhagen. Public and private firms have only focused their efforts on what he calls "low politics."
The Nordics have used their position at the center of growing Russian aggression and the refugee crisis to try and set the international agenda.
But according to Nordenman, "regional cooperation remains hard," since defense priorities vary across the region. That hasn't prevented Denmark, Finland, Iceland, Norway and Sweden from trying to boost military and defense ties through their own partnership, the Nordic Defense Cooperation (NORDEFCO).
Even if regional cooperation isn't that robust, the Nordic countries "have made an effort to share information across many issue areas," says Wivel. This is especially true on the European level, where greater political and security cooperation and information-sharing can enhance their status in negotiations with NATO and the EU.
To that end, the Nordics have used their position at the center of growing Russian aggression and the refugee crisis to try and set the international agenda. "You can see that specifically with Norway within NATO and Sweden within the European Union," says Nordenman. For example, Norway is pushing for NATO's upcoming summit in Warsaw this summer to focus on maritime defense.
On the EU level, Sweden, Finland and Denmark have found themselves playing key roles in the debate on the refugee crisis. In large part because of their status as generous welfare states, the Nordic countries have been some of the most popular destinations for refugees and asylum-seekers fleeing conflicts in Syria, Iraq, Afghanistan and elsewhere. Sweden received 163,00 asylum applications last year; Finland 32,000; and Norway, which is not an EU member, 31,000.
But even if the Nordic countries have been successful at setting these agendas, Wivel contends that "their influence has not increased in recent years." Sweden, Finland and Denmark have always had a certain level of influence; the refugee crisis has just brought it to the fore. And now that influence, he says, is actually waning as all three countries have implemented stricter refugee policies and are debating deporting asylum-seekers whose requests have been denied.
Of course, the Nordic countries remain important to NATO. But as Russian incursions into Swedish and Finnish airspace have declined since 2015, only to be replaced by Russia warplanes buzzing U.S. Navy vessels in the Baltic Sea, the outsize importance of the U.S. to the alliance has taken center stage once again, overshadowing the Nordics. Moreover, the fact that Norway has not joined the EU and that Finland and Sweden remain out of NATO make finding and promoting common positions on Russia even harder.
The Nordic countries' roles in NATO and the EU will continue to evolve, even if familiar barriers prevent them from assuming more formal influence. Either way, as the summit in Washington showed, they are also key partners of the United States, and have a major fan in the White House.
(Maria Savel is an associate editor at World Politics Review)