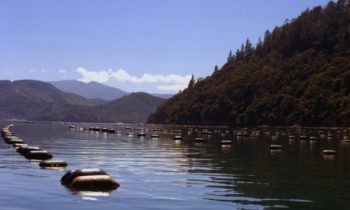 A councillor going on a trip to Norway financed by an aquaculture lobby group says it is not a conflict of interest.
Marlborough councillor David Oddie chairs the hearings panel that deals with marine farm resource consents in the Marlborough Sounds and will sit on the panel of councillors hearing submissions on the Marlborough Environment Plan.
Aquaculture New Zealand are paying for Oddie, compliance manager Gina Ferguson and Kaikoura MP Stuart Smith to go on the five-day trip this month.
The delegation also includes Invercargill MP Sarah Dowie, Environment Southland representatives, and the Southland District Council mayor Gary Tong and staff.
Oddie said they would talk to local politicians and industry experts at the AquaVision conference in Stavanger before looking at aquaculture in the Fjords.
"I don't see my role there as being in conflict of my position on council in any way," Oddie said.
"There will always be the perception that we will be lobbied by the industry. That happens all the time, I don't have to be at a conference for that to happen."
Environment committee chairman Peter Jerram was the natural choice for the trip but could not attend due to personal reasons, Oddie said.
Mayor Alistair Sowman and chief executive Mark Wheeler were unavailable due to work schedules.
New Zealand's coastal policy statement required the council to enable aquaculture in the Sounds.
It was the council's job to decide how much marine farming was environmentally sustainable.
"Council is concerned that we could have that process removed from us," Oddie said.
Central Government wanted to grow aquaculture and New Zealand King Salmon had requested under-performing farms in the Queen Charlotte Sound would be better off moved to the Tory Channel.
"It's important for me that council remains around the table and is involved in the discussions.
"This trip is about gaining prospective as a councillor and building relationships with the industry and central Government."
The trip had no connection to the Marlborough Environment Plan's aquaculture chapter shelved by council until next year, Oddie said.
After 10 years of consultation, the plan was due to outline how aquaculture fits into the sustainable management of the Sounds for the next decade but council said there was more work to be done.
Oddie sat on the hearings panel that would hear submissions on the plan.
The Norway conference held every two years attracts business leaders and aquaculture entrepreneurs from more than 40 countries.
Smith said the delegation was invited by Aquaculture New Zealand and the Norwegian provincial County Council of Rogaland.
Aquaculture New Zealand were unavailable for comment.
"I'm looking forward to learning how other aquaculture producing nations manage their social licence and environmental challenges, as well as exploring further the new technologies and the economic potential that aquaculture offers to New Zealand and to the Marlborough region in particular," Smith said.
Aquaculture generated $160 million in regional GDP, nearly 6 per cent of Marlborough's regional activity.
"Marlborough is the primary region in New Zealand for aquaculture, with about 62 per cent of total national aquaculture production coming from our region. The industry supports over 850 local jobs, paid at a much higher rate than average local wages."
-(The Marlborough Express)