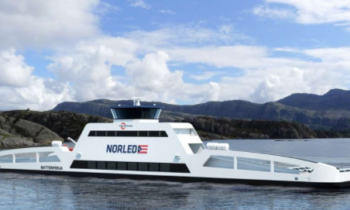 A Tesla of the seas could be coming to Hong Kong if the Norwegians can convince local ferry operators to snap up the world's first fully electric vessel.
With Hong Kong ferries responsible for the lion's share of Victoria Harbour's pollution, according to the Environmental Protection Department, the move to replace diesel-chugging engines with a zero-emission battery-run equivalent is a solution touted by the Norwegian consulate – who believed the Star Ferry would be the best to first undergo the transformation.
"We have a 100 per cent electric ferry operating in the Sognefjord in Norway and it seems to be doing great," saidConsul GeneralEspen Rikter-Svendsen. "If it can be done in the fjords of Norway, then certainly it can be done in the harbour of Hong Kong."
The world's first electric ferry, 80 metres long and 20 metres wide, crosses a fjord in southern Norway in 20-minute stints, travelling 6km stretches 34 times a day – a journey similar to many Hong Kong ferries.
Rikter-Svendsen said production of more electric ferries was under way and more than 50 current vessels were being converted and slated to have their maiden voyage by 2018.
Researchers at Siemens, which developed the electric ferry technology, believed 35 per cent of the 110 ferry routes in Norway could turn electric within four years.
"We would have to investigate conditions in Hong Kong," said Siemen's Norway sales director Odd Moen. "But it could be feasible to have battery-run ferries there."
However, local engineers queried whether a fully converted ferry in a city that does not run on hydropower was worth it.
"While the ferry being fully electric would reduce emissions in the harbour, its overall effect for Hong Kong might not be better for pollution levels" said University of Hong Kong mechanical engineering professor Leung Yiu-cheong, suggesting overall emissions from the city's fossil fuel-run power plants might increase.
If Hong Kong experiments with electric ferries, the power supply would be a challenge for Norwegian experts, said Rikter-Svendsen. Supporting batteries onshore might be needed to avoid overstressing the current power grid.
Leung said that the Star Ferry was remodelling their vessels to run on electricity and diesel. The hybrid power transition, which will be completed in two months, was expected to reduce emissions by 90 per cent.
The government has taken a series of measures to reduce emissions from marine vessels in recent years. It introduced new regulations in 2014 to cap the sulphur content of locally supplied marine light diesel from 0.5 per cent to 0.05 per cent. Such a measure could help reduce the emissions of sulphur dioxide and particulates from local vessels by 90 per cent and 30 per cent respectively.
In 2011, the Environmental Protection Department set up a HK$300 million Pilot Green Transport Fund to encourage public transport operators to test out greener technologies. As of last month, 91 trials were approved.
This article appeared in the South China Morning Post print edition as:
'Tesla of the seas' floated for Victoria Harbour