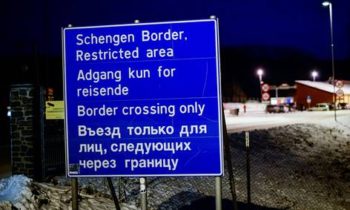 The Norwegian prime minister has said the open border between her country and Sweden has worked for more than 50 years, but she can't offer advice on how it could be copied in Ireland.
The Revenue Commissioners have been examining what border controls may be needed with the North as part of the Government's contingency planning for Britain leaving the EU.
The example of the border between Norway and Sweden is one model being explored. Both countries are part of a free travel area, with random checks by customs officers of documentation and goods.
Norway is not in the EU but has passport-free travel in the Schengen area and access to the single market. Prime Minister Erna Solberg said it was "up to the Brits to decide" if they would seek a similar relationship with the EU.
"I have a feeling that was not what the Leave movement was about," she added.
Asked if the border arrangements in Norway could be replicated in Ireland, Ms Solberg told the Irish Independent: "I think it's difficult to give advice because it depends on how your rules and regulations are."
Passports
However, she added: "Nordic co-operation has been there for more than 50 years. We've had free movement of people, (with) no passports between all the five Nordic countries, since 1965.
"One of the reasons why we are members of Schengen is of course we would have to re-establish border controls when the other countries became members of the EU and Schengen and that would disrupt the very good co-operation we have had."
She said that in the Scandinavian case, "you pay tariffs and you have no free trade over the border. That's regulated by the EU."
Ms Solberg made the remarks as she arrived at a meeting of the European People's Party in Brussels, which was also attended by Taoiseach Enda Kenny, German Chancellor Angela Merkel and Spanish Prime Minister Mariano Rajoy.
She said: "I think it's important now to stabilise Europe", but that Brexit has left a "very turbulent situation".
She said there was still a need to address issues such as migration, the economy and lowering unemployment, despite the ongoing debate on the future of the EU without Britain.
(Irish Independent)