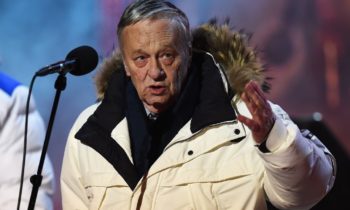 International Ski Federation (FIS) President Gian-Franco Kasper has been criticised by the Norwegian Ski Federation after admitting to "doubt" the explanation given by cross-country skier Therese Johaug after she failed a drugs test.
The three-time Olympic medallist and reigning overall World Cup champion tested positive for banned anabolic steroid clostebol last month, but claimed to have used the product inadvertently via a sun cream she was given by her doctor.
She was eventually handed a two month provisional suspension last week and appears set to miss the start of the World Cup season as an investigation continues.
"Listen, I have not seen the evidence," Kasper told Norwegian newspaper Dagbladet when asked about the sun cream explanation.
"It will be up to the medical experts to determine this, but I have my doubts.
"We have to get the facts on the table."
The Swiss official, a member of the International Olympic Committee (IOC) Executive Board, added that, if found guilty, Johaug should receive a four year ban.
"There is not any question about [this]," he told the newspaper.
"It is primarily a national issue now, and as of now it is up to the Norwegians to find a solution.
"So either the FIS or World Anti-Doping Agency (WADA) [can] appeal, and we must do if nothing happens or if what is being done is not enough."
Norwegian Ski Federation President Erik Røste has already criticised these comments.
"If FIS President Gian Franco Kasper is properly cited, I am surprised and disappointed," he said in a statement.
"It could be construed as a presumption of guilt, which I have little sense of."
Others have criticised Kasper for venting an opinion on a case which is still ongoing.
Many others share his doubts, however, and have been increasingly sceptical of the Norwegian explanation.
Former WADA director general Harri Syväsalmi has claimed that the Norwegian skiing team are operating in a "grey area".
Johaug's lawyer Christian B. Hjort told Aftenposten that the skier had not been drug tested for 129 days before the September 16 sample.
Markus Cramer, the German coach of the Russian cross-country team, has described this as "completely incomprehensible".
He claims Russian skiers are subject to far more regular testing.
Reigning male World Cup champion Martin Johnsrud Sundby was also handed a two-month ban and stripped of his 2014-15 World Cup title earlier this year following two failed tests for asthma medication salbutamol.
Sundby claimed to have received the wrong advice from a doctor on what dosage he should take and was initially cleared of any wrongdoing by an FIS tribunal, only for WADA to successfully appeal to the Court of Arbitration for Sport.
He was consequently banned from July until September 11, with Russian rival Evgeniy Belov claiming the process was deliberately slowed in order to ensure he was only banned during the off-season.
(insidethegames)