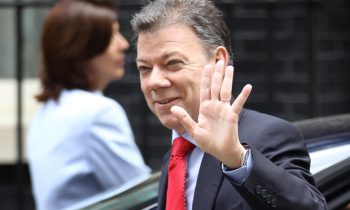 Colombian President Juan Manuel Santos thanked Cuba, Norway and the International Committee of the Red Cross (ICRC) Thursday, for their contribution to the process of dialogues with the FARC-EP, culminated with the signing of peace.
At a ceremony held Thursday in the Casa de Nariño (presidential house) the President said that without that support it was not possible such an outcome to put an end to the long conflict between the two sides.
He had requested a meeting with President Raúl Castro, taking advantage of the Celac Summit (Latin American and Caribbean Community) to say thanks to him, on behalf of all Colombians, 'but I did not travel to the Dominican Republic, so at some point I will go personally to Cuba to thank him,' said the President.
Santos said the island put its best diplomats in the service of the cause, who offered their good expereince not only in public talks in Havana, which lasted nearly four years, but accompanying the teams of negotiators to overcome impasses, listening to their concerns, and seeking solutions to the obstacles.
'Cuba-he added-was the host of the dating and deployed a whole logistics of assurance, our gratitude is eternal.'
In his speech the Head of State mentioned the contribution of some people, among them the support of Rodolfo Benitez, maximum representative of the Cuban guarantors in the formal phase of talks, which was preceded by a period of confidential exploratory meetings.
He also praised the participation of Norway, also a guarantor of the meetings, in all steps from the secret stage until the signing of the peace with the Revolutionary Armed Forces of Colombia- People's Army (FARC-EP), which occurred on November 24 in this capital.
The President highlighted the work of the dozens of operations deployed to move to the members of the delegation of the FARC-EP with confidence and security.
Members of that guerrilla movement, in the demobilization phase, come to the areas and points of transition (26 in total), where you must abandon weapons and begin to prepare for their return to civilian life.
The final pact initialled at the end of 2016 contemplates, among other measures, the cessation of the bilateral fire.
(Prensa Latina)