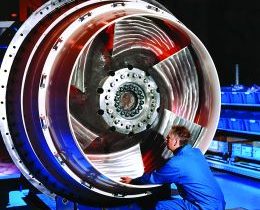 CJR Propulsion has signed an exclusive distributor agreement with Sea-Tek of Norway, establishing it as sole distributor of Doen Waterjets in the UK and Ireland.
CJR Propulsion is a leading designer and manufacturer of precision engineered propeller and sterngear packages, supplying commercial, leisure and superyacht brands.
In recent years, CJR has established itself as one of the UK's most respected marine manufacturers, incorporating the very latest in design and manufacturing technology to produce products that offer a step change in performance compared to its competitors.
Sea-Tek meanwhile supplies high-quality mechanical, electronic, and hydraulic systems for controlling propulsion systems to the marine industry across Europe and holds the European distribution rights to Doen Waterjets.
Doen Pacific, a leading designer and manufacturer of waterjet propulsion systems for the past 48 years, offers waterjets to match engines from 100 to 4,000kW, with some 4,000 applications already on the water, spanning more than 30 countries around the world.
Waterjet propulsion offers advantages for high-speed vessels where extra safety is an operational requirement, as well as the ability to operate in shallow waters. This is combined with excellent maneuverability including an emergency stop system, station keeping and Dynamic Positioning features.
By introducing Doen Waterjets to its product portfolio, CJR Propulsion is now able to offer both fixed sterngear and waterjets to its customer base. Technical support is also available to optimise hull design and performance for either system through CJR's in-house computational fluid dynamics (CFD) department.
– See more at: http://www.boatingbusiness.com/news101/boatbuilding/engines-and-propulsion/waterjet-distributor-agreement?#sthash.57OYuHdS.dpuf