The United States is imposing new sanctions against three Russian individuals and nine entities operating in Crimea,  "It is an act of war going on in Europe. It has resulted in more deaths as a result of a war in Europe since the war in the Balkans in the '90s, and it has resulted in more displaced persons as a result of war in Europe of anything since World War II, US Special Representative for Ukraine Negotiations Kurt Volker said in a telephone conference on Thursday.
"These are sanctions on three individuals and nine entities that are supporting Russia's attempts to integrate the Crimea region of Ukraine through private investments and private projects, or those who are engaged in serious abuses," Volker told reporters.
Relations between the United States and Russia worsened following their disagreement over the crisis in Ukraine. The United States imposed several round of sanctions against Russia after Crimea held a referendum in 2014 in which a vast majority of residents decided to reunify with Russia.
Earlier on November 8, Kurt Volker, the U.S. special envoy for Ukraine, said Washington was "leveraging new authorities to target Russian actors for serious human rights abuses" in parts of Ukraine's Luhansk and Donetsk regions that are "forcibly occupied or otherwise controlled by Russia."
Speaking in a telephone briefing with journalists, Volker also reiterated the United States' opposition to local elections planned for November 11 in areas of eastern Ukraine held by the separatists.
"It is something we would call on Russia to halt and not go forward with," he said, adding that the separatists "do not have legitimacy in the local area nor are they consistent" with the accords signed in Minsk in September 2014 and February 2015 aimed at resolving the conflict.
Ukraine has said the results of the "fake" elections will be "null and void." European countries have also condemned the "illegitimate" vote.
Volker said he planned to meet with his Russian counterpart, Vladislav Surkov — an adviser to Russian President Vladimir Putin — "in the next several weeks."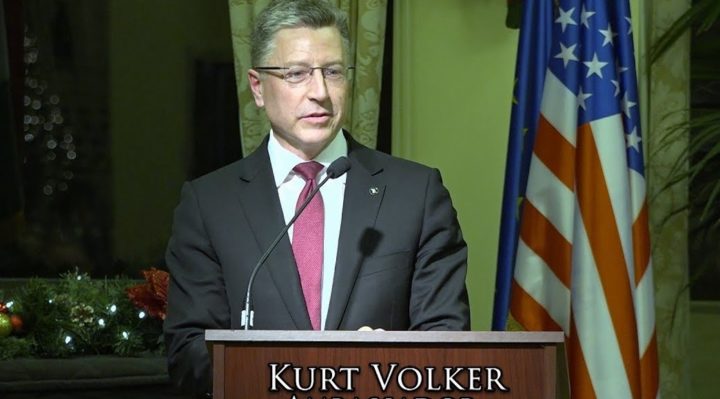 Below is a full rush transcript of the press conference by Ambassador Kurt Volker, U.S. Special Representative for Ukraine Negotiations.
Ambassador Volker: Thank you very much, There are just a couple of topics that I thought would be important to raise to make sure that they're on your radar at this time. Three of them that are worth going through.
The first of these is that Russia is in the process of organizing elections in the territory it occupies in Ukraine for the Luhansk and Donetsk People's Republics, the so-called Luhansk and Donetsk People's Republics.
This is a very concerning development. It is something that we call on Russia to halt and not go forward with. We believe that the entities themselves do not have legitimacy in the local area, nor are they consistent with the Minsk agreements themselves. They don't exist in the Minsk agreements, and in fact the implementation of the Minsk agreements calls for the restoration of Ukraine's constitutional order and there is no place for these Republics in the Ukrainian constitutional orders either.
We do support the idea of elections, and that is part of the Minsk agreements. These should be elections for the legitimate local authorities that exist within Ukraine's constitutional framework. These would be things like mayors of the cities or some of the oblast administrations, and those elections should be held when the territory is secure and safe, when you have freedom and people can speak freely, candidates can campaign freely, there is freedom of movement. And none of those conditions exist right now. So the elections being held, that Russia is organizing for November 11th are wholly illegitimate. We urge that they be stopped and there is no way that anyone from Europe, the United States, et cetera, can give any recognition to the results of such elections.
The second topic I wanted to bring up, and this is the reason that this call is embargoed, is that today the United States is imposing financial sanctions, new sanctions, that relate both to Crimea and to the Donbas. This will be announced by the Treasury Department later today, and there will be a formal press release issued that will contain more details.
What I can say is that these are sanctions on three individuals and nine entities that are supporting Russia's attempts to integrate the Crimea region of Ukraine, through private investment and privatization projects, or those who are engaging in serious human rights abuses.
This is a follow-on, I should add, to Secretary of State Pompeo's July 25th declaration that the United States does not and will not recognize Russia's annexation of Crimea.
These designations underscore the U.S.'s steadfast partnership with Ukraine and the European Union and represent a unified opposition to Russia's purported annexation and occupation of Crimea and use of force to control parts of the Donetsk and Luhansk regions of eastern Ukraine.
The United States is leveraging new authorities to target Russia's serious human rights abuses in parts of Ukraine that the United States has determined are forcibly occupied or otherwise controlled by Russia and other reprehensible acts, human rights abuses, in furtherance of the Kremlin's agenda.
What is notable here is that we have said for a long time that Russia has 100 percent command and control of what is happening in the occupied areas there — military forces, political entities, and direct economic activity. This is the first step taken in the form of sanctions that explicitly recognizes or explicitly is based on the notion that Russia actually controls the Donbas and eastern Ukraine.
Those sanctions will be announced in greater detail later today, but I wanted to call them to your attention.
The third thing that I wanted to bring up, as always, and it's really the most important thing, is the situation affecting the population of eastern Ukraine remains dire. It is an act of war going on in Europe. It has resulted in more deaths as a result of a war in Europe since the war in the Balkans in the '90s, and it has resulted in more displaced persons as a result of war in Europe of anything since World War II.
To give you a few statistics to work with, from July 2017 to October 2018 there have been 450 civilian casualties as a result of the conflict; 212 total casualties — I take that back. Let me get the numbers straight again.
In that period of July 2017 to October 2018, a year and two months, they've had 450 civilian casualties. This year alone, in 2018, up until October 2018, you had 170 injures and 42 deaths for a total of 212 civilian casualties. There have been over 10,000 people killed in this conflict — nearly 3,000 of those civilians. There are over 1500 conflict-related missing persons. There are 3.4 million civilians in urgent need of assistance and protection and services across all sectors, and this includes access to food, water and shelter.
There are crossing points between the occupied area and the rest of Ukraine. These are very dangerous crossing points. Nonetheless, there are about 1.3 million crossings per month. It is, people are crossing largely from the occupied area to the rest of Ukraine and back in order to get basic supplies and goods and access to government services.
Many of the people who remain in the occupied areas are the elderly. Younger people having left to avoid being pressed into military service or to find jobs and then repatriate some of the money back to their relatives that remain behind.
There have been more Ukrainian soldiers killed, more casualties in the conflict in Ukraine than Americans in the entire length of the war in Afghanistan, to give you a sense of the scale of the fighting and the casualties that Ukraine has suffered there. Over the life span of the conflict, the Ukrainian Armed Forces are estimating about 7,000 total casualties and over 2500 killed in action.
The OSCE continues to face significant restrictions on its activities and freedom of movement including and having one of their drones recently shot down again in the Russian controlled area.
So this conflict is affecting real people, real lives all the time, every day. There are ceasefire violations every day, every night. And it is urgent that we try and find a solution to this. We remain committed to try to find a solution. We stand by the proposal to put in the UN-mandated peacekeeping force. Something we believe that we need urgently to create genuine security for all the people there. And that creates a basis for implementing the Minsk agreements going forward.
We are firmly supportive of the Minsk agreements. We believe that they contain all of the elements necessary from both a security and a political standpoint to be successful, but unfortunately they are not being implemented. Russia continues to occupy the territory, to control the armed forces, to control the political entities. And in order to cut through the log jam in discussions about Minsk we believe a UN peacekeeping mission could do that. That would create the conditions for a special status being implemented, for elections, for amnesty of people who committed crimes as part of the conflict. So we do believe that is a viable way forward, and we urge the Russian side to give it serious consideration.
Question: Is there any progress in coordinating positions with the Russian side on the UN peacekeeping issue?
Ambassador Volker: During the course of the summer and early autumn I've exchanged some correspondence with my Russian counterpart Mr. Surkov, to see whether there has been any movement in the Russian position. His responses indicate that Russia remains very far away from the idea of agreeing to a genuine UN peacekeeping mission at this time. Russia supports the idea of a UN protection force that would protect the OSCE monitors only, but would not create security throughout the area, would not oversee the creation of a secure environment. The armed troops that are there would remain in place. The political entities Russia has created would remain in place. And those are conditions that are inconsistent with the Minsk agreements and which neither Ukraine nor any of our partners — France, Germany or others — could support. So we don't see that as a viable way forward.
We do hope to continue talking. We think the dialogue is important. I think that this is a very costly conflict for Russia. I think it has driven Ukraine away from Russia at a civilizational scale in a way that we have never seen before. I don't think that is in anyone's interest, certainly not Russia's interest. The physical cost of the conflict, the financial cost of the conflict, the cost of sanctions as we'll see again today, that affect Russia. So I hope that Russia does begin to look for a genuine solution and we're prepared to work together with Russia to find that.
Question: Can you confirm any progress in the preparation of the next meeting with your Russian counterpart Mr. Surkov? As far as we can see, the Ukrainian side is not doing any steps to fulfill its obligation under the Minsk agreements in what concerns the elections process. So why so much hostility for the elections process currently in place in Donbas?
Ambassador Volker: Thank you. First, Mr. Surkov and I, we both expressed a willingness to get together in the next couple of weeks. We don't have a date fixed yet, but I expect that I'll be hearing back from him soon, and I expect that we will find a date and a place that's convenient for both of us. Nothing scheduled at the moment, but I think we will be doing so soon.
In terms of the elections, first off, we very much support the idea of legitimate local elections with legitimate local authorities in the Donbas as does Ukraine. Ukraine, as you know, does not have access to its territory as it is occupied by Russia. So it cannot conduct elections. It would like to. It has a Central Elections Commission, it has the voter rolls, and it is very much something that Ukraine is committed to both under the Minsk agreements, but also generally, to having elections throughout Ukrainian territory.
The reason for the hostility to the elections on November 11th, as you put it, is that these are elections for entities that have no legitimacy under the Ukrainian constitution. These are entities that have no place under the Minsk agreements. And they are under conditions of occupation, whether it's no freedom of expression, no freedom of movement, no freedom of campaigning, and generally therefore no freedom of choice for the people in electing candidates for legitimate local leadership positions. So these particular elections are a mockery, really, of the idea of genuine elections that need to be held.
What we have proposed and what Ukraine supports and what we hope Russia will eventually support as well, is putting in place a UN peacekeeping mission which would create security throughout the entire area and create the conditions where elections for the legitimate local authorities can be held. With the UN forces there you would need a period of time to organize elections, to allow forregistration, to allow for candidates, to allow for campaigning, and to have those elections go forward.
So to be clear, we are very much in favor of legitimate elections but the elections that Russia is organizing on November 11th have no legitimacy both because of the entities and because of the context in which they're taking place, and because they are contrary to the Minsk agreements.
Question: Could you tell us when this will be announced exactly this afternoon? Could you give us some more detail on who they're targeting and in what format the sanctions will take? And finally, why now, in your opinion, are the sanctions necessary and why they're being announced at this exact moment.
Ambassador Volker: Thank you. I'll say a couple of things, but I do want to save fire for the Treasury's own announcement. It will be announced later this morning. I believe 10:30 is the scheduled time. It is three individuals and nine entities that have some connection either to business activities in Crimea that aim at the furthering of the integration of Crimea, furthering of the ties of Crimea to Russia which are in contravention of Ukraine's status, as part of Ukraine; or connected to human rights abuses taking place in either the Donbas or in Crimea. And they are a further step. The U.S. position has long been that we will keep in place the sanctions that we have, and we are prepared to continue to ratchet up periodically if no progress has been made by Russia in ending the conflicts.
In the case of Crimea, we are expecting a long-term standoff over the status of Crimea. As Secretary Pompeo said in July, the U.S. does not and will not recognize Russia's incorporation of Crimea.
In the case of the Donbas, we are putting sanctions in place in order to advance the implementation of the Minsk agreements. Thus far Russia is not implementing the Minsk agreements.
If Russia were to fully implement the Minsk agreements, and we saw peace and movement on those things and agreements to be fully implemented, we will be prepared to go back and lift those sanctions again. But right now, since we have not seen any progress, we are prepared to continue to layer on over time.
As far as the exact timing goes, this is always related to notifications, deadlines, and authorizations that come from the Congress, so there are windows in which the administration needs to respond. And so this is acting within one of those appropriate windows.
Question: A few days ago, President Mr. Poroshenko, called for beginning of sanctions due to so-called elections in Luhansk and Donetsk which you have mentioned. And so my question is, is the U.S. considering to enforce such sanctions? And also maybe any sanctions are considered due to the situation in [inaudible] which you haven't mentioned yet. You told, I think a few weeks ago that you wanted to visit Ukraine, I think in November. So what is the plan? When are you going to come here?
Ambassador Volker: Thank you. I'm still working out my travel schedule and dates for visiting Ukraine, as well as also for meeting with my Russian counterpart, so I don't have exact dates in mind yet. I'm hoping that it is still this month. If not, it will be early December.
On sanctions, as I mentioned, we're putting in place some additional sanctions today. The basis of those is Crimea and human rights abuses and it recognizes Russia being responsible for the occupation of the Donbas.
We do not have at the moment any additional categories for sanctions. I don't want to rule anything out. The Congress is always very active on this, but as a general principle, the administration's approach is to maintain a robust regime of sanctions periodically, to maintain the sanctions or to add additional ones in order to try to get Russia to agree that they should actually be ending the conflict, that we should be making progress on these issues, and in the absence of any such progress we'll continue that same approach of maintaining and actually layering sanctions on.
Question: what route Russia should have done instead of election? Isn't election the best way to save the current status quo?
Ambassador Volker: The best thing for Russia to do would be to implement the Minsk agreements. That would be a genuine ceasefire, a withdrawal of any Russians away from the line of conflict, a removal of foreign forces from Ukraine, a dismantling of the militias. This can be facilitated by agreement with the United Nations to put in a UN peacekeeping mission instead.
This would create better conditions for the population. It would create more security. It would eliminate the cost that Russia is paying for this conflict at the moment both in terms of military as well as political and economic, and it would create a basis for moving forward with Minsk implementation of the law, including the political [inaudible], a special status for the region, of legitimate local elections with legitimate authorities, and for amnesty.
Having elections for these two so-called people's republics gives an illusion that they have some legitimacy in Donbas itself, and it's not in the eyes of the population nor in any kind of legal sense, So it would be better not to have the elections and to move on with Minsk implementation instead.
Question: You said that these are the first sanctions that are explicitly based on the fact that Russia controls Donetsk and Luhansk. Can you tell us what exactly changed in the U.S. understanding of Russia's control of these regions that would lead the U.S. to impose these sanctions now? Did some new evidence or new certainty emerge in that?
Ambassador Volker: No. It's just a matter of continuing to layer on additional sanctions. Our understanding has always been that it is, that these territories are under direct Russian control, both militarily and politically. So it's not a new understanding. It's just that in the course of implementing sanctions we have not done so in an explicit way before and this time it is making clear that Russia does in fact occupy this territory in addition to Crimea.
Question: The Polish press reported broadly about this very high quality coal from the occupied Donbas finding its way somehow to the Polish market, or anyway to the European Union market. Do you have evidence on that? And can you do something against that?
Ambassador Volker: From my understanding, and I do not have specific evidence to roll out or discuss. But given that these territories are occupied by Russia, and Russia has used convoys both in and out of the Donbas — Military forces, equipment into the Donbas — and I'm sure also there have been extractions, like resources, from the Donbas. And I am very confident that these products and the things that are extracted find their way into the hands of Russian companies and are re-labeled as though they are something else, and then sold on the market. That's what I fully expect to see happening here. And I think it's unfortunate, but it is a derivative effect of the conflict and the fact that Russia occupies this territory that it can do these things without any real documentation, any real visibility for the rest of the world.
Ambassador Volker: As always, I'd just like to close on what I think is the most important thing which is the situation facing the people that live in this region is terrible. They are suffering every day from physical conflict, from lack of freedom of movement. They are confronted with lack of mobility, landmines, unexploded ordnances, a lack of daily freedoms inside the occupied area. There's food insecurity, pressure on water supplies, environmental degradation, increase of disease, concerns about health, the need to cross dangerous boundary crossings in order to receive government services or buy food. It is a dire humanitarian situation plaguing Europe and it can be ended. It is preventable. It was preventable and it can be ended. We really should be keeping this high in the headlines and high on people's agendas to demand a resolution to the conflict here.
And there is a way forward. It is possible to create peace and it's possible to see the Minsk agreements implemented to afford security. So I hope that we're able to get there and I'm committed to working to do that.
Ambassador Kurt Volker is a leading expert in U.S. foreign and national security policy with some 30 years of experience in a variety of government, academic, and private sector capacities. Ambassador Volker serves as Executive Director of The McCain Institute for International Leadership, a part of Arizona State University based in Washington, DC. He is also a non-resident Senior Fellow at the Center for Transatlantic Relations at Johns Hopkins University's School of Advanced International Studies, a Senior Advisor at the Atlantic Council, and a Trustee of IAU College in Aix-en-Provence, France. He is a consultant to international business, a member of the Board of Directors of CG Funds Trust, and had previously served as Managing Director, International, for BGR Group. He has taught Transatlantic Relations at The George Washington University Elliott School of International Affairs. In July, 2017, Secretary of State Tillerson appointed Ambassador Volker as U.S. Special Representative for Ukraine Negotiations.