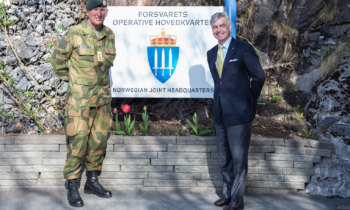 On April 18-19, Ambassador Braithwaite traveled to Bodø. This was his first official trip to Northern Norway as United States Ambassador to Norway.
On Wednesday, April 18, the Ambassador visited Norwegian Joint Headquarters (NJHQ). He was welcomed and given a tour by the Commander of the NJHQ Lieutenant General Rune Jakobsen. NJHQ in Bodø is the operational heart of the Norwegian Armed Forces. It plans, conducts, and leads the Armed Forces' operations in times of peace, crisis and war.
Afterwards, the Ambassador visited the newspaper Avisa Nordland's offices for an interview. When asked what the United States can learn from Norway, the Ambassador told the journalist that the United States could learn something from Norway about the good neighbor relations Norway has with Russia.
Ahead of the trip to Bodø, the Embassy had asked its social media followers for travel tips. Many of them suggested that the Ambassador should go to Saltstraumen, the world's strongest tidal current. So, after the interview, the Ambassador went on a RIB safari to Saltstraumen! The current creates a twice daily naturally-occurring maelstrom consisting of a constantly-changing rush of whirlpools, boils, and vortices between the open ocean and the Saltstraumen Fjord. The safari also included seeing impressive sea eagles and beautiful scenic views.
Thursday April 19, started with a visit to Joint Rescue Coordination Centre of Northern Norway (JRCC). Bent-Ove Jamtli, General Director of JRCC, gave a presentation about the center's work and important mission, and gave the Ambassador a tour of their offices.
Afterwards followed a meeting with Bodø's Mayor, Ida Maria Pinnerød. The Ambassador and the Mayor chatted about his trip so far, and the Mayor gave a presentation about Bodø, its past, present and future.
Next on the program was a visit to Bodin Maritime School. The Ambassador was greeted by District Administrator for Education Hild-Marit Olsen and Rector Geir Ludvig Næstby who gave Ambassador Braithwaite a tour of the school. The school has several ship bridge simulators, and the Ambassador talked to some of the maritime students about their experiences at sea and their career goals. Afterwards, the Ambassador was interviewed by some of the media students at the school.
Then followed participation in a panel discussion on the Arctic at the High North Dialogue Conference. The High North Dialogue is an annual conference that brings together students, academics, policymakers, and other stakeholders to discuss the future of the Arctic. The panel discussion participants included representatives from the Norwegian MFA and seven embassies.
The day ended with a visit to the Newton Academy and the Norwegian Aviation Museum. Ambassador Braithwaite is a former U.S. Navy pilot and has a great interest in and enthusiasm for aviation. The Ambassador flew over Bodø in the Boeing flight simulator at the Newton Flight Academy and was deeply fascinated by Norwegian aviation history at the Norwegian Aviation Museum.