"Everything indicates that Russia is going to deliver the system to Turkey and that will have consequences," Kay Bailey Hutchison, the U.S. ambassador to NATO, said in Brussels.
"There will be a disassociation with the F-35 system, we cannot have the F-35 affected or destabilized by having this Russian system in the alliance," she told reporters.
Turkey produces parts of the F-35s fuselage, landing gear and cockpit displays. Hutchison said Ankara was an important partner in that production but that security concerns about Russia were paramount.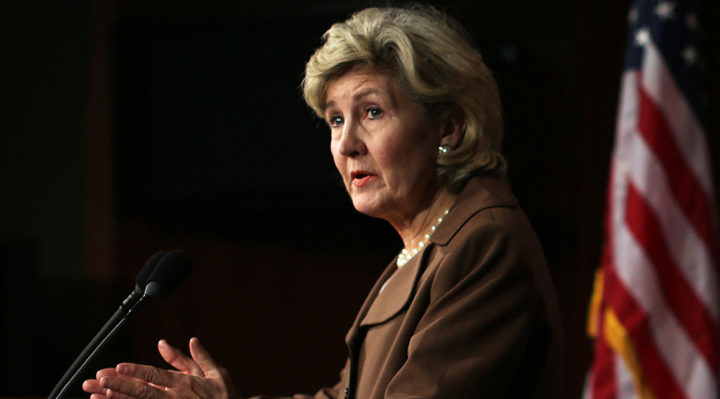 "So many of us have tried to dissuade Turkey," she said.
"It's not over until its over, but so far Turkey has not appeared to retract from the sale," Hutchison. "The consequences will occur, we don't feel there's a choice in that."
U.S. Ambassador to NATO told reporters that at present, Washington was only considering conventional, not nuclear weapons, in any possible response.
"All options are on the table but we are looking at conventional systems, that's important for our European allies to know," she said.
Below is a full rush transcript of the press conference by Ambassador Kay Bailey Hutchison, U.S. Permanent Representative to NATO.
Ambassador Hutchison: I'm very pleased to be able to start our Defense Ministerial this week and talk about the things that we will be discussing.
First and foremost will be welcoming our new Acting Defense Secretary. Mark Esper will be coming in. We're very pleased that after just one week he has chosen to come and show the allies how important NATO is to America for him. And of course this is kind of like coming home for him because he has a military background, went to West Point, he served in active duty for ten years and then the Reserves for another ten years, Army. Now he's Secretary of the Army and has done a wonderful job in that role and was very pleased to be able to then come back to some of the missions that he has served in himself for the U.S. and for NATO. So I think we are going to see an experienced person hitting the ground running and showing our allies how important NATO is for our country as well as theirs.
With that, I think we will start into the Ministerial talking about our key issues. Of course defense investment that we've talked about. The importance of our readiness, our capabilities, comes from our spending and our contributions to the Alliance. Our allies are stepping up. They're increasing spending in all of their countries. We've reversed what used to be a decline in defense spending now to everyone increasing because we know we have an adversary in Russia, we have counterterrorism that is hurting many of our countries, we have cyber threats, hybrid threats, and it's expensive and we need to cover those expenses for the security of our people.
We also will be talking about the demise of the INF Treaty. We have given Russia one last chance to come back into compliance with the INF Treaty, but we know they have been violating it and we can no longer sit back without a defense to the many missiles that they are now producing and setting up.
So we hope they'll come back into compliance but we've given them an August deadline. I think the Alliance is very clear and unified that Russia should come back to the table. They are destabilizing the European security by not doing that. And they have about a month to show that they are destroying the missiles that they have produced.
In addition to that we will also be talking about our mission in Afghanistan, our new mission in Iraq, talking to our partners. We have 41 partners helping us to stabilize Afghanistan and work with the people of Afghanistan. There's an important peace negotiation going on now that is being led by Ambassador Khalilzad from the United States and our allies are very hopeful that that will be successful. We are looking at maybe a post-peace capability in Afghanistan, but we've got to let the peace process work first. We will get a report from not only our Acting Secretary, but the generals in the field and those who are participating in the partnership. We're looking forward to that as well.
So we have quite a heavy agenda to talk about our missions, to talk about our future, to talk about how we are going to adapt our Alliance in readiness to face the risks that our NATO allies and partners are facing every day in a trouble world that we hope we can bring peace and stability to, but we want to make sure that we are doing what's necessary to deter and defend against the risks that we see out there.
Question: There will be a NATO-Russia Council meeting next week. What are your expectations for that meeting and on what day will it be held ?
Ambassador Hutchison: Russia has not firmly said they will appear. We're hoping to have one on July the 5th. That's what we've offered to Russia. We hope to achieve that because it is important that we talk. We're very concerned about Russia's activities in the Ukraine. We're calling on Russia to return the ships and the sailors that they took in November and they're holding now hostage. It's not right. There is a violation of the rights of the Ukraines to be in the Kerch Straits and they certainly have the right to be able to have navigation and commerce through those straits, and Russia needs to come back and give them their sailors, give them their ships, and start acting more reliably.
So we'll bring up Ukraine. We will bring up other activities that Russia has been participating in. The INF Treaty certainly will be a topic. They will have one more month after the NATO-Russia Council to come back into compliance. It's clear they have been violating it for years. The United States has called them to come back to the table for five years at least, and NATO has joined in that call. Now it is down to the final hours that they can destroy the missiles that they have produced in violation of the treaty, come back to the table, and we will be happy to reinstate the INF Treaty.
Question: The U.S. has lately expressed concerns about European defense initiatives including EDF and PESCO. Are these topics going to be discussed during the Ministerial?
Ambassador Hutchison: I think certainly we will bring up the concerns that we have as a non-EU member in NATO that the regulations that are going through the European Union now would box out third party participation with a sector of the regulation that says if any third party or outside EU collaborator, comes into an EU project that is funded by the European Defense Initiative or PESCO, that they would have to give up their intellectual property in order to collaborate.
Well no United States company is going to give up its intellectual property in order to collaborate on systems, and the Europeans know that. So we're calling on them to take that out. We call it a poison pill because it is. We want to have total interoperability with NATO systems, NATO equipment, all the things that we do together need to have collaboration. The European Union should not be putting in poison pills that would keep America or Norway or Canada from competing and being a part of a collaboration to make sure that we have the best equipment and also collaborative efforts that are interoperable. So we're working with the EU. It will come up and we hope to have a better outcome than we're seeing right now.
Question : Norwegian tankers were recently attacked by Iran. How will NATO respond to this attack?
Ambassador Hutchison: Most certainly we are working with our ally Norway to address the concerns with Iran. Iran attacked actually two of their ships, and they were in navigable waters and they had a right to be there, and we must protect the rights of navigation through the Straits of Hormuz. We will work with Norway. We'll work with Japan, another partner that also was attacked by Iran. And try to come to a conclusion that keeps the navigation open and stops Iran from the maligned activities that they have taken up in the last few years, but also the last few weeks. And Iran knows what they're doing. We asked them to come to the table, asked for a diplomatic solution, asked for them not to make threats against other allies that they're going to go more into gaining a nuclear weapon. That is an unthinkable end.
We want Iran to be a trading partner. We want Iran to treat their people right, to adhere to the norms of countries that would be a part of the community of nations, and Iran's not doing that right now.
Question: The government of Finland wants to keep the door open for a NATO option. How does the current administration see Finland's possibility for joining NATO?
Ambassador Hutchison: Well most certainly Finland would be a wonderful NATO partner and if they choose to seek NATO membership I don't have any instructions on this, but I know in my heart that we would welcome the Fins. They are good partners with us. We would love to have them as an alliance in the NATO partnership. But we know that's a decision that they need to make for their people. But we would love to always welcome Finland.
Question: Do you think there is a chance that President Trump and President Erdogan will find a solution to the S400 crisis during their meetings in Osaka on the margins of the G20 Summit this week?
Ambassador Hutchison: I hope so. Hope is eternal there, because we're getting now closer to the time when they say they are going to import a Russian defense system into the middle of our Alliance in Ankara. We don't want that to happen. We would like for them to reject that possibility. We have said on many occasions that there will be consequences that are not good for Turkey and they're not good for the United States, but they will be necessary. We have no choice. Turkey has made a decision that we think will hurt the Alliance and will most certainly hurt their participation in the F-35.
We want them to be a productive partner. We want the jobs that will be created by the F-35 in Turkey. Turkey's been a great ally and partner in NATO. We want that to continue. We don't think having a Russian missile defense system in Turkey will achieve that end.
Question: Is it important for Europe to have her own solid defense military system? Or is it better to find a solution by creating a new structure or alliance between NATO and the EU?
Ambassador Hutchison: Well, I think the NATO parameters that we have now are very good. Each country makes its sovereign decision if it wants to be a part of NATO. There are EU members that are not in NATO and there are NATO members that are not in the EU. And that should be a choice that people make based on their own needs and the will of the people. But having said that, we certainly welcome every country that wants to be in NATO, that has the requirements to be in NATO, that they want to be in Article 5, they want to be bonded in our North Atlantic bond, our North Atlantic Alliance, that they would stand with us as we would stand with them, and that they have a democracy, a rule of law, and human rights requirements. We want them as members if they will meet those requirements and want to be members of NATO.
Question: When do you think North Macedonia will become a full member of NATO? Do you expect this to happen this year in December during the NATO Summit in London?
Ambassador Hutchison: It's our hope that that would happen at the Leaders Meeting in December. That is something that we're all working toward. But every one of our Alliance members has different requirements of their parliament agreeing and confirming that they will agree to the accession of North Macedonia.
I know it is moving through our United States Senate for its agreement, and we believe very firmly that our Senate will ratify the accession of North Macedonia. We hope it will be this summer, but for sure we think it will be in the fall.
All of the others that are working toward having this approval which has been done by our NATO Ambassadors, so we know that all of our countries are supportive of North Macedonia. It's a matter of timing, and we hope that by the end of the year at our Leaders Meeting we will have a wonderful celebration of welcoming North Macedonia into our Alliance.
Question: How do you see former Soviet allies who are now becoming members of the EU and NATO? Is this strengthening or weakening the defense and diplomacy of NATO and the EU?
Ambassador Hutchison: I think it is certainly strengthening. It's strengthening by their countries becoming stronger, because to come into EU or NATO you have to have certain rules of engagement. You have to have a military, you have to have a strong democracy, you have to have a rule of law and certainly adhere to human rights. So all of those strengthen each individual country, but it also strengthens our partnership and our Alliance.
When we go from 29 to 30 members, we speak with one unified voice, and that's very effective when we are looking at maligned activities of Russia or dabbling by China in some of the security of our Alliance. Or when we see counterterrorism occur. We speak with 30 voices that will say we're going to defend our way of life, our freedom, and our quality that we give to people. That's so much more impressive than one country that has no allies or has allies that are mistreating their own people.
Question: What plans does NATO have with the EU to prevent terrorist attacks and threats of terrorism to the EU by illegal immigration?
Ambassador Hutchison: Well, most certainly we are trying, first of all, to stop terrorism where it has built in the past. We have an effort that has gone on for years now to stop terrorism from fomenting in Afghanistan. That's where the 9/11 attacks against America were planned and programmed. So that's number one, that we stop terrorism in the countries where it has built and not let it be exported to any of our countries. And we are in a very strong network where we are sharing information in our NATO Alliance where we see potential terrorists migrating into any of our countries. We're sharing that information. That's an important part of the Alliance, in fighting terrorism. So we're trying to stop it in its tracks before it comes, but when we see that known terrorists are infiltrating any of our countries we're reporting that and taking the necessary steps to try to protect against it.
Question: Has Turkey explained to the U.S. why they think the S400s are not dangerous for NATO? Can there be more contacts with Ankara on this matter? And on what level?
Ambassador Hutchison: Well, most certainly Turkey and the United States have been in talks about what the problems are to the F-35. Having a Russian computerized system that is a missile defense system that is programmed to shoot down enemy aircraft in our midst. So yes, we've talked about it quite a bit at many levels, and the United States position is firm, that you can't have a Russian missile system like the S400 in the proximity where we make and repair and house the F-35s. So much of the F-35 strength is its stealth capabilities, and you don't want a Russian missile system that can detect or learn how to detect those stealth capabilities.
It's part of our overall Alliance security, and we hope that Turkey will see that and understand that they cannot coexist as the Chairman of the two major committees for defense and security in our United States Senate said in an OpEd recently. You can have S400 or the F-35, but you can't have both. I hope that the Turks believe that the F-35 is in their interest. It certainly creates job opportunities and sharing of intelligence and information with Turkey and the United States and our NATO Alliance, as it has done for all the years that Turkey has been in the NATO Alliance. They are a good ally in the NATO alliance. But this is not something that will strengthen the ties. It will hurt the capability to share in the F-35.