A U.S. arms envoy said Tuesday it is Russia's turn to respond to U.S. terms to extend the landmark New Strategic Arms Reduction Treaty.
"Russia understands our position and what remains to be seen is if there is the political will in Moscow to get this deal done," said Special Presidential Envoy for Arms Control Marshall Billingslea. "The ball is now in Russia's court."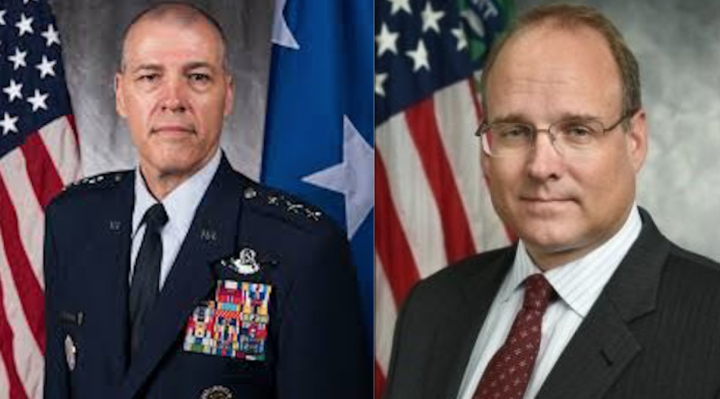 Below is a full rush transcript of the press conference by Ambassador Marshall Billingslea U.S. Special Presidential Envoy for Arms Control And Lt. Gen. Thomas Bussiere Deputy Commander of the U.S. Strategic Command.
Ambassador Billingslea: We've just completed our second day of negotiations with the Russian Federation. We came to Vienna based on the discussions held this past month between President Trump and President Putin. And we are building on the substantive conversations our two leaders have held, and we are also capitalizing off of the work of our technical experts, who met here in Vienna two weeks ago.
The United States brought to Austria one of the most senior delegations in nuclear arms control history. The Department of Defense team was led by General Bussiere, the Deputy Strategic Command Commander, who will offer some thoughts here in a moment. And we're relatively satisfied with the level of delegation that also came from Moscow and the seriousness that underscored the talks.
Overall, I would summarize this week's negotiations as having been valuable for both sides, for both the United States and the Russian Federation. We certainly covered a broad range of national security issues. They were, at times, intense. They went deeply into certain matters, and we in fact covered some groundbreaking topics.
We, the United States, have been clear that New START is a deeply flawed deal negotiated under the Obama-Biden administration, and it has significant verification deficiencies. It also does nothing to address the most imminent problem of this decade, which is China's secretive crash nuclear buildup.
There are some areas of convergence between Russia and the United States, but we do remain far apart on a number of key issues. In other words, there is some agreement in principle, but an enormous amount of work will be required if we are to make progress.
We brought to Austria a very detailed set of proposals relating to our steadfast view that the next agreement must cover all warheads, all nuclear warheads. And we've consistently said that we also need to have a better set of verification and transparency measures.
Finally, the framework that we could establish with Russia cannot be created as another exclusively bilateral, Cold War-style arrangement. It must be built so that it can include China in due course.
So we came to Vienna with a mandate from President Trump. Russia understands our position, and what remains to be seen is if there is the political will in Moscow to get this deal done. The ball is now in Russia's court.
Lt. Gen. Bussiere: I'd like to give a few brief comments on the talks over the last few days, and the absolute importance of the U.S. military and the Russian general staff having the opportunity to have very candid discussions.
I made it very clear to the Russian delegation about the importance of these dialogues going forward to alleviate misperceptions and miscommunication. We did raise several questions regarding Russian plans and intentions – the fact that the Russian nuclear threat is increasing. In addition to modernizing its existing inventory, it's also developing never-before-seen nuclear weapons capabilities. We had some very candid discussions and some very direct questions on the intentions of that buildup.
We also had some frank discussions on the fact that if we don't arrive at an agreement to address our concerns that the U.S. force posture will have to be adjusted accordingly to this ever-increasing and threatening complex strategic environment.
Additionally, we had some useful discussions on China and China's exponential growth of their nuclear triad, where they are expected to at least double the size of their nuclear force stockpile in the next 10 years.
Question: Do you believe that there needs to be some kind of direct meeting between President Trump and Vladimir Putin to make that progress?
Ambassador Billingslea: I think that Ambassador O'Brien, the National Security Advisor, said it best the other day, which is that in – we would – the two presidents, I presume, would like to get together and that if we do have a good deal here, that that could be the focus of a meeting. But again, we had a mandate and we've laid down what we need to see from the Russian Federation, and it's now a question of whether they're ready to walk down that path with us.
In terms of New START itself, we are not suggesting, too, that we would amend the New START Treaty to include China; rather, we are willing to contemplate an extension of New START but such an extension will only occur if we can arrive at a series of agreements that address significant concerns we have with the Russian buildup of its unconstrained capabilities, its various short- and medium-range nuclear weapons, and so on. My point here on China is that we're not going to negotiate another bilateral arms control treaty. The next treaty will have to be multilateral, it will have to include China, and the framework that we are articulating together as two great powers, us and the Russians, will be the framework going forward that China will be expected to join.
Question: Do I understand correctly that at this very moment, the U.S. is considering prolonging START but – but depending on whether China is ready on whether Russia is ready to sign up to the demands from the U.S. on other areas, on the ones that you mentioned? So the question is: Is China put up for later for the moment?
Ambassador Billingslea: So we've always made clear and actually, this is something that we, that the Deputy Foreign Minister Ryabkov and I, agree on and he's said publicly, as have many senior Russian officials, that the next nuclear arms treaty must be multilateral. And we have been clear that the next nuclear arms control treaty must include China. So that's clear.
What we've said is that we view the New START Treaty as deeply flawed and that it is not particularly in the U.S. interest to simply extend that treaty. We've got to address these unconstrained warheads that exist outside of the treaty, and to which the Russian Federation is systematically adding more and more and more. One wonders how much is enough. And that's why our focus has been on an agreement that would be a politically binding agreement between our two presidents that addresses all warheads.
But, Elena, yes, in essence, if we are able to fix the verification problems, if we are able to arrive at such a politically binding agreement, we would be willing to propose to the President that New START be extended for some period of time.
Question: You said that the new mid-range, non-nuclear, ground-launched cruise missile under development in the U.S., you said exactly the kind of defensive capability that countries such as Japan will want and will need for the future. How does the U.S. intend to convince Tokyo of this need?
Question: You said – you've been quoted as saying that the new mid-range, non-nuclear, ground-launched cruise missile that's under development in the U.S. is, quote, "exactly the kind of defensive capability that countries such as Japan will want and will need for the future." How does the U.S. intend to convince Tokyo of this need?
Ambassador Billingslea: Japan has to look after itself for its own defensive requirements, so it's a decision that only they can make. What's important is that we have moved swiftly to develop this capability. It's been roughly a year almost to the day that we conducted the first flight test of the – of a prototype system, and it's very crucial for everyone to understand that for 33 years the United States faithfully abided by the INF Treaty. China was never bound by that treaty, and so, unsurprisingly, China has built and deployed a wide range of systems that fall into that category. Russia, which was bound by the treaty, cheated repeatedly and for more than a decade, in secret, developed multiple different kinds of violating missile systems and then proceeded to deploy. And that's ultimately why the United States elected to exercise the only remedy that we had, which was to withdraw legally from the treaty and to immediately begin building this defensive capability.
So what's important for us to do is to get this capability from prototype to a deployed – a deployed and deployable system, and then we will certainly want to have detailed discussions with all of our allies on the importance of being able to defend ourselves from threats and coercion and intimidation and the implied or actual use of force to try to drive unallowable outcomes.
Question: Can you please tell from the military point of view, just answer this simple question: From the military point of view, is it – what is better, to extend or not to extend New START?
Lt. Gen. Bussiere: So specific to whether or not from a U.S. military perspective we need or want an extension of the New START Treaty is agnostic. So we can perform our military missions with or without the New START Treaty. We do believe, however, that it does provide increased international security. But there's a difference between the arms control protocols and the military necessity and operational utility.
Question: In July, Fu Cong, head of the Chinese arms control department of Chinese foreign ministry, said that Chinese will agree to talks if U.S. come down to the Chinese level, current level of China. The Chinese say that U.S. is stronger than Chinese 20 times in terms of nuclear power. What do you comment on this in his statement of Fu Cong?
Ambassador Billingslea: So that's an excellent question, and I'm very glad to have a Vietnamese journalist on this call, because what we are addressing in here is a urgent and growing threat to the Asia Pacific region, which is the secretive and unconstrained Chinese nuclear buildup. And that is a threat that faces not just the United States but all of the countries of Asia.
As Vietnam knows perhaps better than most, China attempts to use force to redraw borders and boundaries. One would remember that China invaded Vietnam and occupied several of the northern counties. And we cannot agree to a situation where China builds up and achieves some form of rough nuclear parity with the United States and Russia, and then proceeds to use those nuclear weapons for blackmail and coercion.
And so our view is that China should stop what they're doing. They want the world to believe that they only have a few hundred nuclear weapons, and the question you have to ask them is: Why have they never admitted how many nuclear weapons they actually have today? Right? Fu Cong has said what you said. My question is: Why don't we start with you telling us how many weapons you have and how many you plan to build?
I will tell you, and we shared detailed intelligence with the Russian Federation on what China is doing both in our previous meeting and again today, but I will give you just one example of how alarming Chinese behavior is. Last year, in 2019, China shot off more than 200 ballistic missiles. Let me repeat that: In 2019, China shot off more than 200 ballistic missiles. That is far more than the rest of the world combined. That is why we are focused on ensuring that we maintain stability, that we maintain the strategic equilibrium that has existed to date, and that is why we believe that the next nuclear arms control treaty must include and must constrain China.
Question: I just want to clarify an important point. You have said that there could be a framework accord with Russia and that China might later be brought on into that process. And I think in our conversation today you referred this to as a political commitment between the two Russian and American leaders. Could you please explain what such a framework, what such a politically binding commitment between the U.S. and Russia might look like from the Trump administration's point of view, and how that would be different from a full-fledged treaty that could take years to negotiate? And I take it from your remarks that if there was such a politically binding commitment this year that reaffirmed your points that all warheads be included and that there be tough verification, that would be a sufficient basis to agree to a temporary extension this year of New START?
Ambassador Billingslea: As you would imagine, I will not delve into the details of what an actual framework would contain other than to emphasize the high-level elements that have to be addressed, and those elements are, as you have noted, an agreement that covers all nuclear warheads.
And so by this we mean the wide range of the short- and tactical-range weapons that Russia has been building completely unencumbered under the New START Treaty, by that, and it must fix – well, it also must contain verification measures that would be pertinent to a complete warhead arrangement, and we must fix the most glaring deficiencies in the verification regime of the New START Treaty, which has to do, for instance, with things such as telemetry, the exchange of telemetry missiles, has to do with the length of time that it takes for inspectors to arrive at an inspection site and the frequency of inspections.
I think it's important to note that under the Obama-Biden treaty, they basically gave away all meaningful telemetry data. We're not getting anything of value there. The inspection timelines are nearly three times as long as they used to be under the original START Treaty. And in effect, because of the cap on the number of inspections, a greatly reduced number of inspections, the United States is only able to visit in any given year half of the Russian sites, meaning that it's just really not of great value to us.
But if we can fix these things, and if we can address all warheads, and if we do so in a way that is extensible to China ultimately, then we would be prepared – again, it's President Trump's decision. He's – and we're not going to take a bad deal back to him – but we would recommend that we consider – that he consider an extension of the New START Treaty this year.
Question: I'm a bit confused as to what exactly the conditions here are for extending the START Treaty, because at different points you've made it sound like there's a – like the Chinese aspect would be separate to the conditions for extending START, and at other times you made it sound like they're a necessary component of the extension, the ability to broaden this agreement to China. Just to be clear, is that a condition for you of extending START, or is it a separate thing that you would then work on sort of in parallel, then, to extending START?
Ambassador Billingslea: Well, I mean, ultimately one cannot compel China to sign anything. The Chinese might like to compel others, but that is not what the United States is all about. We, however, believe that ultimately it will be in China's interest to join the future treaty arrangement. They will derive a large number of benefits from doing so.
First of all, they, at that point, would be seen as a great power and as behaving responsibly as a greater power, which is certainly what Chairman Xi wants. And what better way to be – to realize that status than to be included together with the United States and Russia in the architecture of strategic nuclear arms control and of nuclear arms control writ large? And that would be a benefit.
Another benefit to China will be that the world can take some confidence that China had ceased its secretive behavior. The Chinese understand that the world is incredibly upset with how it covered up and behaved on the virus, how it is covering up and behaving on all number of things, including its crash nuclear program, and some level of global reassurance would be restored regarding Chinese behavior.
But there are also very practical material benefits that China would receive. Because of the many decades of work that we've done together with Russia and the Soviet Union before that, we have hotlines, we have nuclear risk reduction centers, we have transparency and confidence-building measures between our militaries, as General Bussiere has mentioned. And these are things that we will also complete and conclude with the Chinese if they join.
Those are just a few examples of the benefits they will derive, but we are not going to compel them into this architecture. We are going to frame it out with the Russians and then we're going to see that the world continues to pressure China to stop its secretive behavior and join. A number of countries have already called out the Chinese for their failure to negotiate with us in good faith, and that chorus of calls on the Chinese will only continue to grow and, in fact, I imagine would accelerate dramatically once we have created an architecture to control all nuclear weapons.
Question: You've referred several times to your interest in pursuing a multilateral arms control architecture that involves warheads with better verification. And as you well know, the – so the history of U.S.-Russian arms control negotiations, the two sides have chosen to pursue limits on specific classes of nuclear weapons to date. And can you clarify a little bit more what the conceptual framework is for a common framework that covers strategic nuclear weapons, sub-strategic nuclear weapons, intermediate range? How would these be counted? On a one-for-one basis, et cetera?
Ambassador Billingslea: So I won't be able to get into the details the way you would wish at this stage. It's a bit premature. But you're absolutely right in the way you're framing out the question. We have in the past chosen to focus on the strategic delivery vehicles because from a national technical-means standpoint, very much, you have a better chance of verification. Obviously, warheads are relatively small things and that has been a verification challenge that has bedeviled the arms control community for quite a long time. And therefore, in the future, what we likely will see is a hybrid approach that would maintain limitations on the strategic systems but which would provide for a method of ensuring that the overall inventory of warheads writ large is static.
I don't want to go too much further into how we would do that, but what I would say is that it is appropriate for us to look at how the Threshold Test Ban Treaty ultimately achieved ratification, and that was through the establishment of a joint verification experiment between our respective nuclear enterprises, between the laboratories, that were able to identify and to develop the necessary technologies to handle that particular verification challenge at the time. And so we think that a similar approach when it comes to warhead verification could have big dividends. Moreover, we think that that would be a potentially very attractive activity in which China may wish to participate, and indeed, could have applicability in other, nonproliferation scenarios such as denuclearization of a non-nuclear-weapons state.
Question: I would like to put the question to Ambassador Billingslea. China has been building up its presence in Western Balkans region in terms also of arms procurement, and Serbia stands out particularly in that way. Can you please comment on latest Serbia's procurement of Chinese drones, CH-92A, as well as Serbia's intention to purchase FK-3 air defense missile system? And if it's not too much, can you also reflect on Serbia's arms procurement from Russia in that in what way could all the above-mentioned be an issue from the U.S. perspective?
Ambassador Billingslea: I am going to keep the focus of today's conversation on the recently concluded arms control negotiations with the Russian Federation and I'm not prepared to comment on those topics.
Ambassador Billingslea: So I think the White House has made clear that at the moment there are no preparations for such an event, but, obviously, time will tell. As I mentioned, the ball is now in the Russian court. The previous discussion this past month between President Trump and President Putin showed us a path to a deal and the United States just walked down that path. We're hoping the Russians will join us. It remains to be seen if they will, but I feel cautiously optimistic. And again, time will only tell.
I will – because the question came from a Ukrainian reporter, I will also add that we took note and we, in fact, appreciate and support the foreign minister's call on China to negotiate with the United States in good faith. Ukraine speaks with a special moral authority when it comes to nuclear matters, having forsworn nuclear – the retention of Soviet nuclear weapons at the end of the Cold War. And so we appreciate Ukraine making that statement and putting the pressure on the Chinese.
I also note that a number of other non-aligned or neutral nations, such as Austria, have made that call. In fact, I just met with the Austrian foreign minister here in Vienna and he has called out the Chinese on several occasions. And so this in addition to a number of our friends and our allies around the world, and I expect that that pressure on China will continue to grow as the world realizes what China has been doing behind everybody's back.
Question: Just a short technical question. I wanted to ask whether any future dates for future rounds of talks have been explored at all either between yourselves and Deputy Foreign Minister Ryabkov or at a technical level ?
Ambassador Billingslea: So what I told the deputy foreign minister is that we stand ready. But because the ball is in Russia's court, we've signaled what we need to see and it's incumbent upon them to come along with us. We have a mandate from President Trump and it's going to be important that the next meeting, the Russian delegation also have the same mandate. I think our two leaders really have had all the necessary discussions to get there.
So on the optimistic side it could be a couple of weeks; it might be longer. Really, it's up to Russia, right. here are a little more than five months left in the New START Treaty, and if Russia would like to see that treaty extended, then it's really on them to come back to us, and we stand ready to meet.
Question: I'd like to know what happens if China, in the end, chooses not to join the negotiations. Would it be useful to continue working with Russia, or we have to wait for China?
Ambassador Billingslea: It's an excellent question. The United States and Russia are the great powers here, and we're going to – we're going to continue to talk to one another. We're not going to allow China to exercise a veto over our relationship with Russia. That said, we also intend to negotiate with the Chinese when they're ready in a bilateral mechanism, and we're happy to do so as long as ultimately those two paths converge together in the form – again, as I said, in due course – in the form of a trilateral arms control treaty.
Just a concluding thought here with regard to China. I'm actually very glad that at the National Zoo in Washington, the great panda, she appears to be pregnant and hopefully will give birth to a baby panda here in the coming days. And if so, that might be the one bright spot in Sino-U.S. relations. It would be wonderful if we could make a second bright spot be nuclear arms control negotiations with the Chinese Communist Party. The world wants to see China cease being so secretive. The world wants to see a reversal in the way China hides from plain sight what it's doing. And we expect that the world is going to call on the Chinese to join us in these talks.
Ambassador Billingslea: We appreciate the chance to talk with journalists from around the world. These are significant matters. They are weighty matters. And as I said, the discussion with the Russian delegation was intense. We did, as I said, go deeply into a number of areas, and we did discuss some groundbreaking topics. But we await to see the final decision in Moscow. The ball is in Russia's court. Thanks again, and that will be it from our side.