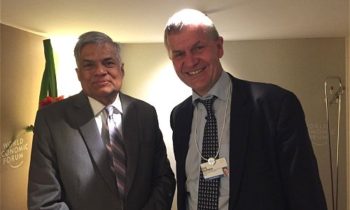 The United Nations Environment Programme (UNEP) has offered Sri Lanka its expert advice on a green economy and an environmentally friendly financial environment to promote health, wealth, and well-being of the island nation
The Executive Director of UNEP, Erik Solheim together with several specialists, has held a discussion with Sri Lanka's Prime Minister Ranil Wickremesinghe at the World Economic Forum Center in Davos on Wednesday on creating a green economy and financial environment.
At this discussion, ideas were exchanged regarding reforestation, and the Prime Minister Wickremesinghe said he emphatically stated that any land obtained for development purposes must be restored and re-cultivated equally.
Mr. Solheim said that the United Nations Environment Programme possessed the ability and means to provide the necessary support and advice to Sri Lanka in this regards. He said they agreed on cooperation between Sri Lanka and the UNEP on sustainable tourism, wildlife and water.
Special attention was focused on the conservation of elephants, whales and dolphins at this discussion, and the parties identified that water and soil conservation were areas which required urgent attention.
(N.Sethu)