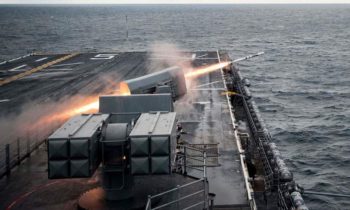 A Norwegian missile manufacturer announced plans Thursday to open a production facility for rocket motors and warheads at the Naval Surface Warfare Center Indian Head in Charles County, creating 130 jobs over the next five years.
The Nammo Group's Nammo Energetics Indian Head is partnering with the Navy installation's Explosive Ordnance Disposal Technology Division on the project, which will include disposing of obsolete and surplus munitions.
Nammo, based just north of Oslo, the capital of Norway, plans to invest $23 million to renovate existing facilities on the base and $7 million in new equipment, according to a Maryland Deparment of Commerce announcement about the deal.
The state Commerce Department is extending a $400,000 conditional loan to Nammo to assist the project through the Maryland Economic Development Assistance Authority and Fund. Nammo also could be eligible for tax credits related to job creation.
The Navy facility in Southern Maryland is dedicated to research and development of explosives as well as their disposal. The state said it contributes about $545 million a year to the state's economy.
"Under this 30-year partnership, Nammo Energetics Indian Head will address underutilized capacity in our Cast Plant to manufacture rocket motors and warheads," Ashley Johnson, technical director of the Navy's ordnance disposal division at Indian Head, said in a statement released by Nammo. "It will also provide us options to maintain the unique capabilities needed for our Nation's defense."
Gov. Larry Hogan, who met with Nammo CEO Morten Brandtzæg in December to discuss the plans, welcomed the company to Maryland and said its investment and the new jobs confirm "the positive business climate our administration set out to establish two years ago."
Nammo is developing the facilty under a 30-year public-private partnership agreement with the Navy.
"This agreement brings significant job opportunities to our residents and strengthens Indian Head's position to continue next-generation research and development for decades to come," Charles County Commission President Peter F. Murphy, said in a statement.
In addition to rockets and missiles, Nammo also produces a broad range of ammunition. The Indian Head facility will be its eighth in the United Sates, which it said is becoming one of its most important markets.
The company expects to employ four people at Indian Head this year and potentially grow to as many as 221 — including some personnel currently stationed at Indian Head — by 2020.
In a statement, Brandtzæg called the agreement with the Navy "a unique opportunity for Nammo to become part of the US National Technology Industrial Base."
(baltimoresun)