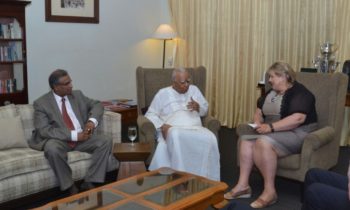 A meeting between visiting Norwegian Prime Minister and the Leader of the Tamil National Alliance and Leader of the Opposition R. Sampanthan took place in Colombo yesterday.
Sampanthan brought to the notice of the Prime Minister concerning various issues faced by the Tamil people in the North and East. He pointed out that even though some of the lands had been released by the military in the North and East, the government could have done much more in this matter. He further stated that the resettlement processes too could have been done speedily by the Government.
Speaking on framing the new Constitution and the processes towards it, Sampanthan stressed that the resolution to the national question must be found in the new Constitution. Speaking at the meeting with regard to the Office of the Missing Person's Bill, Sumanthiran said it's a positive step the Government has taken in finding the truth which would lead to true reconciliation.
The Prime Minister assured that Norway would continuously and constructively engage with Sri Lanka in supporting to its economic development and also in the reconciliation process.