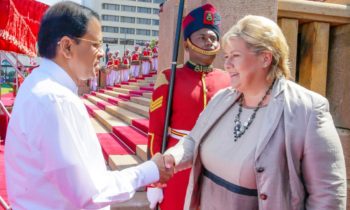 Norwegian Prime Minister Erna Solberg said today international responsibilities were crucial contributions not only to peace, but also to future prospects for development in countries seriously affected by conflict. Delivering the Lakshman Kadirgamar Memorial Lecture 2016, she said Sri Lanka had consistently shouldered international responsibilities since independence in 1948.
"It has taken active part in UN norm-setting processes and has provided staff to key UN positions, including several Under-Secretary-Generals. Most notably Sri Lanka has contributed thousands of UN peacekeepers to missions around the world.
At present, more than a thousand Sri Lankan troops are serving in UN peacekeeping missions in Haiti, South Sudan, and the Central African Republic," she said.
Prime Minister Solberg, who delivered her speech on Sustainable Development Goals, said that Sri Lankan welfare policies had attracted international attention and influenced other countries' policymaking.
"Achievements in the areas of health and education were important for Sri Lanka's progress towards the Millennium Development Goals. Indeed, free education and health services have been provided for decades. These and other achievements provide a good basis for achieving the SDGs," she said.
She said education, particularly for girls, was a human right as well as the most effective investment in sustainable development and added that women's full and equal participation at all levels and sectors in society was vital, including in politics and business.
"This will boost economic growth, help ending poverty, improve global health, protect our environment and climate and strengthen peace and stability," she added.
(dailymirror)