Andrea Thompson, undersecretary for arms control and international security at the State Department, has said focusing on the full range of Iran's malign activities , terrorism, proliferation of ballistic missiles, violations of international obligations, human rights abuses, and support for the murderous Assad regimes.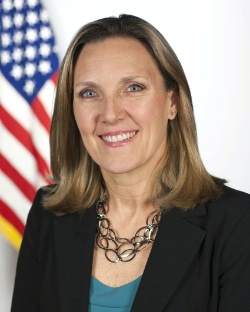 Below is a full rush transcript of the press conference by Under Secretary for Arms Control and International Security Andrea Thompson.
State Department's Under Secretary for Arms Control and International Security Andrea Thompson.
I thought it might be useful for maybe some folks that are new to this coverage area to describe my role as the Under Secretary for Arms Control, International Security. I have three bureaus that I oversee. Three Assistant Secretaries. The three bureaus are Arms Control, Verification, and Compliance; we have International Security and Nonproliferation; and Political Military Affairs. So we address arms control agreements, nonproliferation, obviously important always, but obviously more important today at the UN General Assembly, and we can talk foreign military sales and our role in PM, if that's useful.
But first and foremost, it's an honor to be able to represent our country at the 73rd UN General Assembly. It's been an incredibly busy schedule with a series of bilats and meetings and attending key events. For example, this morning's session with the President, I have a session tomorrow with the Secretary. An engagement with our allies.
The top priority for the U.S. at this year's General Assembly is nonproliferation. The top priority to me and to the State Department every day, but even more so this week up at UN General Assembly.
Question: The extraterritoriality of U.S. sanctions on Iran which means that French companies like Total and Peugeot had to withdraw from their investment plans in Iran, even though at the time they did them they were legal, under the Iran Nuclear Deal. And they were afraid of getting sanctioned because they have holdings in the United States and they use dollars. So this has become a big political whatever, hot potato. So where do we stand with that, if that's the way it's going to go on? Or is there any negotiation on that point?
Andrea L. Thompson : Before Iran I'd like to focus within my portfolio which is really focusing on the full range of Iran's malign activities , terrorism, proliferation of ballistic missiles, violations of international obligations, human rights abuses, and support for the murderous Assad regimes. For the specifics of the sanctions, that's really Brian Hook's lane, my partner at the State Department. But I can assure you that he is deeply engaged as is the Secretary, and I'll have an opportunity this afternoon to meet with my French counterparts to discuss the importance of our discussions in nonproliferation and other security agreements that we work together with such a key ally.
Question: I wondered what exactly OFAC's were for anything, for any kind of barter that would keep economic trade going with Iran. can you tell us where discussions are between the United States and Europe on the broader Iran agreements that the U.S. administration has talked about? Can you address where discussions are on that?
Andrea L. Thompson : You know, with the discussions with our European counterparts and specifically the EU initiative on the payment mechanism, I think the Secretary's comments earlier in the week speak pretty clearly. Obviously we have open lines of dialogue, an important part of negotiations. And again, not to continue too much in Brian Hook's lane, but with his leadership as we can move ahead on the next steps with Iran and our partners, he's been in active dialogue on various continents to ensure that we're sharing that information, that there's transparency as we work ahead. We've had some key meetings this week. And again, you probably heard it this morning in the General Assembly from a range of partners and allies about Iran's malign activities.
Again, we'll continue the dialogue and move ahead. Again, as the President said, it's time for a new deal that's more encompassing and addresses the violations that we've seen in so many different areas.
Question: My question concerns the danger posed by biological weapons. How do you assess the threat of the biological weapons programs in Russia, Iran and Syria?
Andrea L. Thompson : I've actually been to your part of the world. I served in the U.S. military for 28 years and I've served in the Kurdistan region and Northern Iraq twice during my time there. So thanks for that question.
Biological weapons. Again, you've heard it not only from the United States but globally that there's no tolerance for the biological weapons and their use. We continue to have discussions both in my lane with experts' meetings within the State Department, within DoD and other agencies. And we're having those discussions here at the UN General Assembly today.
We've come to the table, and it's very similar to the chemical weapons use that cannot be tolerated and the use won't be tolerated and we've got norms of behaviors of responsible nation states and responsible nation states do not proliferate or use those types of weapons. So that's been very consistent messaging across the global community, and the U.S. is also a leader in that field.
Question: U.S. President Mr. Donald Trump's new alliance in the Middle East, security in the alliance, and what part is the Egyptian role in this alliance? what are the aims, and is this alliance going to face Iran's activities or not?
Andrea L. Thompson : The President's been very vocal on the importance of key partners and allies, and the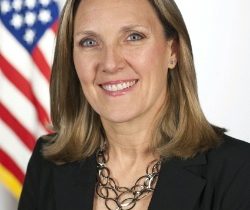 importance of that region. Had a very successful meeting with your leader, with el-Sisi, and we continue to engage. In my particular lane, if I can, with the political , military affairs, we've got a relationship and as we continue to work in partnership on defence trade, it's such an important part. As we bring stability in the region, working in coalitions with compatible equipment and so I look forward to continue to work with my Egyptian counterparts as we continue to increase on the defence trade.
Question: I just wanted to know, where is the proposal of the United States to repair the JCPOA? Do we have any detail or whatsoever? Because I guess that it will be necessary to have some proposal at one point or another. And not just denounce the JCPOA.
Andrea L. Thompson : For the JCPOA, again, the President and the Secretary and across the leadership of the administration have been very clear that we're looking forward and not back. We want to get an agreement and a deal that addresses the full range of Iran's malign activities. Again, I'll reiterate because it's so important, their support for terrorism, number one exporter of terrorism worldwide. Proliferation of the ballistic missiles and additional defense systems. Violations of the international treaties and obligations. Human rights abuses. And I would also encourage, if you haven't heard or seen the transcript from the Secretary while he was here, there are some other great statements there as well.
So we've continued to work with our partner and allies on the way ahead, recognizing that we will have some differences, but the large majority of the folks that we're speaking with recognize that we need to address the full range of the malign activities and the JCPOA addressed just one small portion of that.
Question : You've indicated DPRK and Iran, that Iran is under the jurisdiction from the IAEA. The DPRK hasn't yet provided concrete evidence of pulling back. U.S., the negotiations with the DPRK is going much farther ?
Andrea L. Thompson : With DPRK, again, you've heard today what the President's remarks as he chaired the General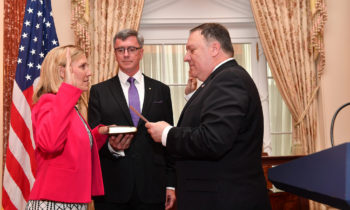 Assembly; the Secretary's remarks; and I raised it with all the key partners and allies that we're meeting with this week as well.
We're continuing to work to achieve the final and fully verified denuclearization DPRK and the Korean Peninsula. We've reiterated here, in the pulse of the UN, in the heartbeat, that it's imperative to ensure that all Security Council Resolutions are fully implemented and enforce. We've heard that around the table this morning, and we'll continue to hear it throughout the week. Everyone in that body, again the large majority recognized the importance of adhering to those UN Security Council Resolutions, and we need to continue to keep those in place.
We sincerely believe that pressure is what opened the door for diplomacy with Chairman Kim, and we need to maintain it until the DPRK denuclearizes.
Question: The European countries' stance against the United States concerning the U.S. stance against Iran. Are you worried about the action of the European countries, that they are not supportive of the American stance against Iran right now?
Andrea L. Thompson : We continue to have dialogue with our European Union and European counterparts. It's an important part of diplomacy, it's an important part of the discussion between the administration and key leaders across the Atlantic.
We will differ in some areas, but by and large we agree in most of these points and look forward to continuing to work to come to common ground and again, recognizing the malign activities of Iran and how best to address those collectively.
Question: how will the U.S. administration react to EU plans for the so-called Special Purpose Vehicle for financial and trade transactions with Iran to bypass U.S. sanctions?
Andrea L. Thompson : I met with my German counterparts yesterday and met with them before, back in Washington,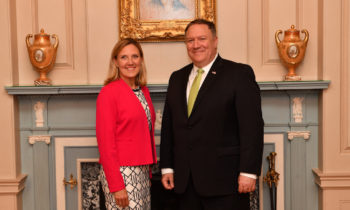 DC. At the end of the day I don't want to project our decisions. We'll continue to work with our partners and allies, but have full faith and confidence in the administration and in the senior leaders charged with that, and know that we'll get the best result for the American people and for the security of our nation in the end.
I know you've got a lot of folks you have a chance to cover and appreciate the opportunity to share some of the actions that are being done here at the UN General Assembly and then at home back at the State Department and globally with our partners and allies.
Again, just to reiterate, the President's to priority, one of the top priorities for the administration is, at the UN General Assembly, is nonproliferation, but also to echo the fact that it's an every-day mission for the T family, the Secretary and the State Department. And again, our goal is clear. We're here to stop the proliferation of nuclear weapons. WE want to preserve the global norm against the use of chemical weapons and other weapons of mass destruction, and I look forward to continuing that dialogue with our partners and allies for a better secure and prosperous United States, and for the rest of the globe writ large.
UN General Assembly in New York on September 26 – "On my own continent, Europe, fundamental rules and principles of international law are now in jeopardy. Prime Minister of Norway Erna Solberg said this during a speech at the UN General Assembly in New York on September 26. "The consequences of instability affect us all. And global security threats require global responses. The Security Council must be able to act, and so must we – as nations and as regional organizations. Areas of conflict and instability are breeding grounds for violent extremism and international terrorism," the head of the Norwegian government said. Solberg also promised to work on reforming the UN Security Council to make the organization more transparent, effective and representative Prime Minister of Norway said.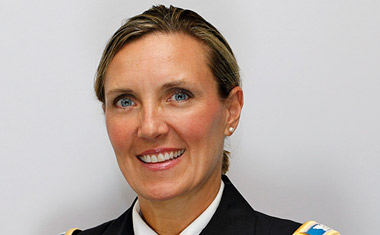 Andrea L. Thompson was confirmed as Under Secretary for Arms Control and International Security on April 26, 2018. Before her arrival at the Department of State, Under Secretary Thompson served as the Deputy Assistant to the President and National Security Advisor to the Vice President.
Prior to her tenure at the White House, Under Secretary Thompson served as the Director of the McChrystal Group Leadership Institute. She brings more than 25 years of service in the United States military to her role, including deployments on multiple combat tours, such as: Intelligence Directorate/J2 Chief of Staff in Afghanistan, Senior Intelligence Officer for MultiNational Division (North) in Iraq, as well as tours in Iraq, Bosnia, and operational and strategic deployments around the world.
Under Secretary Thompson also served as the National Security Advisor for the Chairman, U.S. House of Representatives Committee on Homeland Security and Senior Military Advisor to the Chairman, U.S. House of Representatives Foreign Affairs Committee.