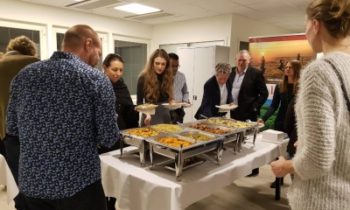 The Embassy of Sri Lanka in Oslo held a tourism promotion event on 22nd November at the Mission premises.
Leading travel agents, travel operators, renowned travel writers and travel journalists, representatives of major airlines servicing Sri Lanka as well as travel and tourism fair organizers were invited to the event. After the presentations that highlighted the attractions in Sri Lanka as a worthy destination for Norwegian and Nordic tourists, the Ambassador hosted the invitees to a traditional Sri Lankan dinner.
Welcoming the guests, Sri Lanka's Ambassador in Oslo, Jayantha Palipane spoke of the importance of the growth of the tourist industry, friendly welcome that awaits tourists and the variety of attractions that Sri Lanka offers. Ambassador Palipane mentioned of his efforts to see a steady increase of Norwegian tourists visiting Sri Lanka.
Ajith Benjamin and Dilshan Sirisena of Butterfly Vacations made a detailed presentation on the attractions, the manner of serving the needs of the tourists and foreign tour operators, as well as the easy way of booking a good tour to Sri Lanka.
Kenneth Cai of BeCuriou, a leading tour operator in Oslo and Terje Mykelbost, a well-known Norwegian travel writer and editor were also invited to share their experiences in Sri Lanka.
(N.Sethu)