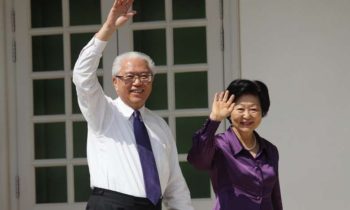 Singapore President Tony Tan Keng Yam will arrive in the Norwegian capital of Oslo on Sunday (Oct 9), for the first state visit by a Singapore head of state to Norway.
During his six-day visit, Dr Tan will meet King Harald V and Queen Sonja of Norway and Prime Minister Erna Solberg.
He will also spend three days in Tromso, Norway's Arctic capital.
In a statement on Saturday (Oct 8), the Singapore Ministry of Foreign Affairs said the visit "reaffirms Singapore's warm and long-standing relations" with Norway.
Relations between both sides date back to over a century ago. In 1906, a year after Norway became independent, it set up an honorary consulate in Singapore – then part of the Straits Settlements – which was an important harbour for Norwegian vessels. Formal ties were established in 1969, after Singapore's independence.
While in Norway, Dr Tan will receive a ceremonial welcome at the Royal Palace, the official residence of the King of Norway, where he will also be hosted to lunch by King Harald V and Queen Sonja. The royal couple, who made a state visit to Singapore in 2004, will also host a gala dinner.
Dr Tan will also meet Ms Solberg, who was in Singapore in April on an official trip, and Mr Olemic Thommessen, president of the Storting, the Norwegian Parliament.
Dr Tan will also attend a Singapore-Norway business forum and research and entreprise seminar, as well as a reception for the overseas Singaporean community in Norway.
From Oslo, Dr Tan will go to the northern city of Tromso, where he will tour the University of Tromso and go onboard the university's research vessel.
He will also visit the fishing village of Sommaroy, a key hub for the Norwegian fishing industry.
In a boost to the close cooperation between both countries, a number of agreements are expected to be inked during the visit. These will be in the areas of business, maritime cooperation, education, and research.
Norway is Singapore's 13th largest foreign investor with investments reaching S$21.9 billion. Among Singapore's European trading partners, it also ranks as the eighth largest, with S$2.4 billion in bilateral trade last year.
Close to 400 Norwegian companies are in Singapore, most of them in the maritime and offshore industries.
The Singapore Business Federation is leading a delegation of 13 companies to Norway in conjunction with Dr Tan's trip.
Dr Tan will be accompanied by Mrs Mary Tan, Minister for the Environment and Water Resources Masagos Zulkifli, Minister of State in the Prime Minister's Office and for Manpower Sam Tan, and MPs Cheryl Chan and Joan Pereira.
While he is away, Chairman of the Council of Presidential Advisers J. Y. Pillay will be Acting President from Oct 9 to 10. Speaker of Parliament Halimah Yacob will be Acting President from Oct 11 to 15.
(straitstimes)