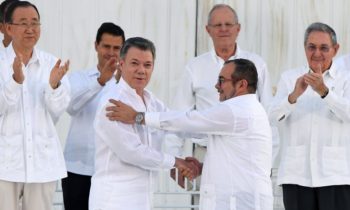 Colombian president Juan Manuel Santos has won the 2016 Nobel peace prize for his work on the peace accord with Farc rebels that his countrymen last weekend voted to reject.
Nobel committee spokeswoman defended the choice of Santos, saying she hoped it would "give him strength" to continue negotiations with Farc.
She also defended the decision to pick out the president from all the parties involved in the peace negotiations, saying he went "all in".
"The Norwegian Nobel Committee wishes to encourage all those who are striving to achieve peace, reconciliation and justice in Colombia," the committee announced.
Mr Santos will receive an 8 million Swedish krona prize.
He is still pushing to rescue the deal to end the 52-year conflict between the government and the Revolutionary Armed Forces of Colombia guerillas, known as Farc.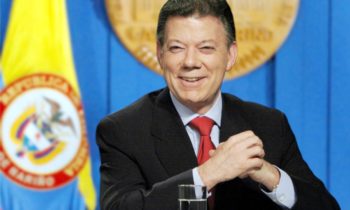 In last Sunday's referendum Colombians voted by a slim majority of 50.21 per cent to reject a deal signed in September between president Santos and Farc rebels.
The referendum result triggered a flurry of diplomacy, with a special UN envoy dispatched to Havana to try to reconvene peace talks.
Farc leader Rodrigo Londono aid he was prepared to "fix" the peace deal, and president Santos addressed the nation on Monday to assure them new negotiations would begin "as soon as possible (to) realise the dream of every Colombian to end the war with Farc".
"The country will come out winning," he said.
In a statement released to announce this year's winner, the Norwegian Nobel Committee said the award should also be seen as a tribute to the Colombian people who, "despite great hardships and abuses, have not given up hope of a just peace, and to all the parties who have contributed to the peace process".
They said President Santos had initiated the negotiations that culminated in the peace accord, and "he has consistently sought to move the peace process forward.
"(However) the fact that a majority of the voters said no to the peace accord does not necessarily mean that the peace process is dead… The Norwegian Nobel Committee emphasises the importance of the fact that President Santos is now inviting all parties to participate in a broad-based national dialogue aimed at advancing the peace process.
"By awarding this year's peace prize to President Juan Manuel Santos, the Norwegian Nobel Committee wishes to encourage all those who are striving to achieve peace, reconciliation and justice in Colombia. The president himself has made it clear that he will continue to work for peace right up until his very last day in office. The Committee hopes that the peace prize will give him strength to succeed in this demanding task."