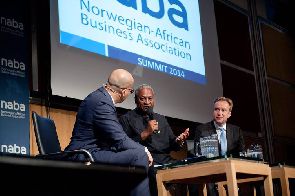 Norwegian and African leaders across industries are expected to meet once again at the Radisson Blu Scandinavian Hotel in Oslo to discuss trends, issues and great potentials for rising cities of Africa under the ever growing annual Norwegian-African summit.
The summit will be hosted by the Norwegian-African Business Association (NABA).
The 2016 summit, the 6th of its kind, aims to highlight the business opportunities across the African continent and facilitate a dialogue on how Nordic companies can position themselves to benefit from these.
The event which will be held on Thursday, October 13, 2016, will also have special sessions focusing on opportunities within infrastructure, construction and real estate in West Africa, renewable energy in East Africa, urban consumer in North Africa and food production for the growing cities.
Africa's future economy is projected to hosts the world's youngest and most rapidly urbanizing population. It will also have the world's largest population in working age by 2034, reaching 1.1billion.
In 2015, 472million people lived in cities in Africa; a figure that has doubled in 20 years, yet two-thirds of the infrastructure needed to accommodate this growth has yet to be built.
The 6th annual summit is therefore expected to discuss and seek solutions to the challenges confronting the African continent as far as infrastructure, renewable energy, real estate, urban consumer and food production are concerned.
32 speakers and approximately 400 participants are expected to convene with African and Norwegian policy makers, business leaders and high-level delegates.
Confirmed speakers include: Mr. Thabo Mbeki, Former President Republic of South Africa, Mr. Børge Brende, Norwegian Minister of Foreign Affairs, Mr. Kai Mykkänen, Finnish Minister for Foreign Trade and Development, Ms. Irene Muloni, Minister of Energy and Minerals, Government of Uganda, Ms. Ebi Atawodi, General Manager, Uber Nigeria, Mr. Tutu Agyare, Managing Partner and Chief Investment Officer, Nubuke Investments, Mr. Kjell Roland, Managing Director, Norfund, Mr. Henri-Bernard Solignac-Lecomte, Head of Africa Unit, OECD and Mr. Dan Dorner, Senior Energy Analyst, International Energy Agency (IEA).
The rest are Mr. Svein Tore Holsether, CEO, Yara International, Ana Hajduka, CEO, Africa GreenCo, Mr. Mark Eddo, CEO, Mark Eddo Media, Mr. Lanre Akinola, Editor, African Business, Mr. Hans Jochum Horn, Chairman, Rendeavour, Ms. Khanyi Dhlomo, CEO, Ndalo Media, Ms. Juliet Anammah, CEO, Jumia Nigeria, Mr. Antti-Jussi Ahveninen, Director of Real Estate Funds – International Taaleri Oyj, Mr. Mark Whyte, Senior Partner and Head of Global Real Estate Group, Control Risks, Mr. Jos Tromp, Executive Director – Head of Research Continental Europe, CBRE, Mr. Nicolai Skridshol, Partner, Steenstrup Stordrange and Mr. Zin Bekkali, Chief Investment Officer, Silk Invest.
Others are Mr. Hichem Elloumi, Chairman & CEO, Coficab, Vice President UTICA, Mr. Mark Davis, Head of Clean Energy, Norfund, Mr. Christian Victor Bernau, Partner, Spear Capital, Mr. Henry Aszklar, CEO, Globeleq, Mr. Svein Stolpestad, Group Vice President Group Strategy & Business Development, Jotun, Mr. Joakim Hauge, CEO, Sahara Forest Project, Mr. Tiku Shah, CEO, Vertical Agro, Mr. Vegard Moltubakk, CEO, WA, Fish Farmers AS, Mr. Ryan Anderson, Head of Energy Analysis, Multiconsult AS, Ms. Hilde Gillebo, SVP & Head of Development, SN Power and Mr. Carl Ottar Rafner, former CEO, Scancem International/ Heidelberg Cement.
Eivind Fjelstad, Managing Director of NABA commenting on the upcoming event said: "Due to its great success, what used to be the Norwegian-African Business Summit became the Nordic-African Business Summit. We are thrilled to see such great interest from business leaders, politicians and civil society. We hope that this year's summit will not only stimulate a dialogue across industries and continents, but inspire action".