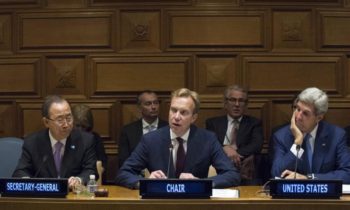 With Russia's military buildup in the Arctic, Norway said Thursday it needed to modernize its defenses, Reuters reported. Norway, a NATO member state, shares a small border with Russia in the Arctic where there has been increased military activity."Our neighbor in the east has built up its military capacity, also in areas close to us," said Admiral Haakon Bruun-Hanssen of Norway's navy. "They have shown that they are willing to use military force to achieve political ambitions."
Norway's defense forces would need more than $21 billion beyond what was budgeted for the next 20 years, Bruun-Hanssen said. Russia's military actions in both Ukraine and Syria have created uncertainty across Europe. Norway also mentioned it was now facing cyber and terrorist threats, as well.
Norway's Defense Minister Ine Eriksen Søreide said Western relations with Russia had been permanently altered over Russia's actions in Ukraine. Russia annexed the Crimean peninsula in March 2014, after which a war in eastern Ukraine began pitting government forces against Russian-backed separatists. The conflict has caused the deaths of approximately 8,000 people and displaced 1.4 million. Russia has continued to deny any direct military involvement in the conflict.
"We are faced with a different Russia," Søreide said speaking with CNN. "I want to warn against the fact that some people see this as something that is going to pass. The situation has changed. And it has changed profoundly."
Other European countries also have embarked on modernizing their defense capabilities amid uncertainty over Russia. Poland has begun a military modernization program at a cost of more than $35 billion. Poland and Sweden signed a military cooperation agreement in September that also cited Russian military fears. Sweden said it had increased its own military spending by 11 percent.
"Once a sea of peace, the Baltic has become a sea of danger," said Polish Defense Minister Tomasz Siemoniak.
Norway's announcement came as Russia continued its airstrikes in Syria Thursday. Russian Foreign Minister Sergei Lavrov said his country was not targeting American-backed forces. "We targeted ISIL-associated depots, armaments and sites," he said, referring to the Islamic State militant group.
(ibtimes)
Back