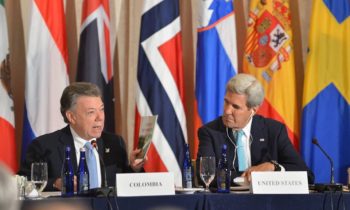 SECRETARY KERRY: Good morning, everybody, and welcome to an important event to kick off a lot of events here in the course of the UNGA week. My co-chair and good friend, Borge Brende, and I are really delighted to welcome everybody here. And we're particularly happy today that we are able to welcome President Santos of Colombia, and needless to say, we are really grateful to so many members of the Global Demining Initiative for Colombia for coming here this morning at this important meeting.
There are going to be a lot of meetings – too many, maybe – and conversations this week with UNGA. But I think here today and now, this event really is one of the most meaningful, one of the most important, one of the most personal to all of us in many ways because we are gathered to take a finite step in doing what the United Nations was founded to do, which is be able to build lasting peace in various places in the world, and ultimately, in the world altogether.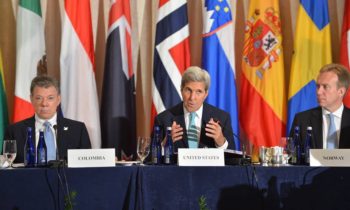 So we come together at a very pivotal moment and a profoundly heartening moment.
Under President Santos's leadership and after four years of very tough back-and-forth negotiations, Colombia, as we all know, has reached an agreement on a peace plan with the rebel group FARC, ending a war that is the longest war, lasting war, on the planet – nearly 50 years, half a century, which claimed an estimate 220,000 lives. And I personally am very grateful that all of the nations here – that we together, and particularly I'm grateful on the part of the United States that our Special Envoy Bernard Aronson – Bernie Aronson was able to be helpful to support Colombia in this historic undertaking. And many of the people around this table here contributed in so many different ways to this endeavor, as President Santos knows. I very much personally look forward to attending the signing ceremony next week in Cartagena.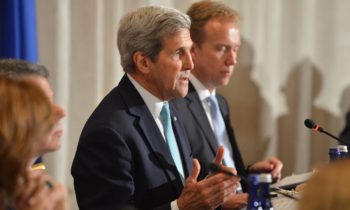 Last February, in Washington, President Obama joined President Santos in announcing Paz Colombia, which is a new strategic framework for our bilateral engagement. And I can say to all of you I was – I remember in 1998, '9, we were working in the United States on what was then called Plan Colombia – a billion dollars at the time, a lot of people had doubts it would make a difference. It was a hard fight, but we got it, and with the spirit of the people of Colombia, frankly, it did make a difference. It could not have done so without the courage of the leadership of Colombia that stood up and literally reclaimed their country from narco-terrorists and from terrorists.
So as a core element of the implementation of this peace plan, the United States and Norway are pleased to be co-chairing this Demining Initiative. And our goal, obviously, is very, very straightforward. I'm sure all of you have traveled, as I have, to various parts of the world. I can remember being in Cambodia quite a few years ago and seeing a little kid pushing himself on a small cart down the street. He had no legs. And I went to the prosthetic center there and I watched people being fitted for these rudimentary prosthetics. And this was years after the war had ended, and so unexploded ordnance and particularly mines continue to take thousands of lives. It's absolutely extraordinary. War continues to kill, from the current war, for years to come despite the hostilities themselves being ended and over.
And so I think in Africa, similarly, I've seen men and women balancing food baskets as they navigate on makeshift crutches through crowded alleyways. And in Bogota, I talked with members of the armed forces and I actually played sitting volleyball with them at a recovery center, where these soldiers who had lost their limbs, were wounded by mines that had long been forgotten and abandoned by the people who put them there. And I've heard testimony from peasant families about children whose lives were lost.
So, different countries, different times, different individuals, but the exact same tragic story.
As President Santos will attest, the Demining Initiative is both a humanitarian necessity, but it's also a boost to peace. This is one of the things that will help to give confidence to the people of Colombia that the world is invested in this and we are serious about it. Now, I know some of you may be familiar with the case of Ferney Cifuentes, a 14-year-old Colombia boy who was helping his father herd cattle in Montecristo when he stepped on a landmine and he was fatally injured. Ferney is one of more than 11,000 Colombians wounded or killed by landmines and unexploded ordnance over the past 25 years. So demining is going to allow Colombia's campesinos to reclaim valuable farmland for productive uses as an alternative to cocoa leaf production – land which is now off limits because of the existence of the landmines.
Demining is an essential part of rebuilding in the wake of what has been this longest-running war. And more than 20 countries and the EU have joined the initiative. So we'd like to see more, especially in places where the Colombian Government and the FARC have decided to work together, which in itself is a remarkable statement.
So we know from decades of experience it takes time, it takes money, and it takes experts and hard work in order to identify and clear mines, and to educate the local population about the dangers. So whether in Colombia, Afghanistan, Southeast Asia, Africa, there are best practices that we all know; there are no short cuts. So our goal is to solicit additional financial and technical aid from all sources in order to help Colombia reach its Ottawa Convention goal of being landmine-free by 2021. And the United States is pledging an additional 36 million and we hope that others will come forward as well. Minister Brende and I hope that each country represented will make a meaningful contribution towards this goal.
So my friends, everybody here knows what we have to do. And in a world where we see Syria and we see terrible events like yesterday, but schools being bombed, children being bombed, barrel bombs being dropped, a continuation of war, the world really needs to see the global community step up and be consequential in showing leadership to end this seemingly endless sense of deterioration and chaos. And what we do here today can be important not just to Colombia, but can be important to setting a tone for this week of UNGA here in New York.
Borge. (Applause.)