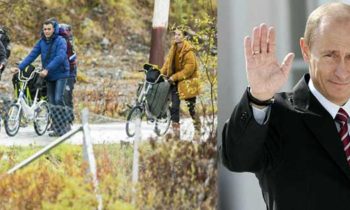 Norway has set itself up against Russia, and therefore we are being punished, says Aftenposten's former editor, Kjell Dragnes. Norway has objected against the superpower, the neighbour in the East, and we are simply being punished for it, says Dragnes to NRK. Dragnes was until recently editor of foreign affairs for Aftenposten, and he has been Moscow correspondent for the newspaper twice.
Last week, 2,000 asylum seekers came to Norway. Approximately every fourth came from Russia, according to the Directorate of Immigration (UDI).
Only 35 have come to Finland, even though Finland has a much longer border with Russia than Norway. But Finland is not a NATO country.
– It leaves the impression that Russia does it on purpose. If such is the case it is very serious, says the Progress Party's parliamentary leader in Parliament, Harald Tom Nesvik.
Dragnes believes that this must be seen in connection with the Norwegian government's sanctions against Russia after the country annexed Crimea, and the supported the war in eastern Ukraine. Norway introduced the same sanctions as the European Union against Russia.
– Now Russia sees the opportunity to punish Norway by sending unwanted people to Norway by expelling them, says Dragnes.
Norway has also been affected by Russia's counter economic sanctions. Russia has introduced a stop of food imports, including import of Norwegian fish.
– This is Russian hybrid warfare against Norway. The reason is that we are a NATO country that shares a border with Russia, says a high ranking source to aldrimer.no.
Hybrid Warfare is a collective term for hidden warfare and state influence operations and propaganda.
Organized by the FSB
The practical arrangements of the refugee traffic to the Russian-Norwegian border is by the FSB in Murmansk, in partnership with organized criminal groups, writes aldrimer.no citing intelligence sources who say that it is well known that the FSB, which is also responsible for Russian espionage against Norway, has close ties to the Russian mafia and other criminal groups.
In Russia, a very organized transport and support operation is established. In addition to human smuggling, there is also a very professional and extensive sale of bicycles to "refugees", given that it is not allowed to walk across the border. Norwegian or Russian citizens who drive refugees across the border could be punished.
The route to the Norwegian-Russian border is also being actively promoted on social media, writes the outlet.
And while Russian border guards require a Schengen visa to be let into Russia, there is no such requirement at the border to Norway – to seek asylum.
However, the "refugees" – mostly Afghanis, who have lived a long time in Russia – have to bicycle across the border, as walking is not allowed.
The bikes are left right after the border crossing into Norway, and the "refugees" are then free to seek asylum.
No, it's not Disneyland, but almost.
Russia of course denies any involvement in the matter.
– Russia has nothing to do with the flow of refugees to Norway. Norway is too kind, and therefore asylum seekers come to Norway, says Russia's Consul General in Kirkenes, to Nettavisen.
(speisa)