Damen is converting the platform supply vessel (PSV) Eidsvaag Opal for Eidsvaag, a small, family-owned Norwegian company that has been transporting fish feed to the aquaculture sector since the early 1980s. In 1995, as the aquaculture industry expanded, Eidsvaag switched from road transportation to shipping. It now operates a fleet of 16 owned and chartered vessels.
"One of the main things that made Damen stand out as a strong candidate in the tender process was their previous experience with the vessel," said Eidsvaag general manager Vidar Eidsvaag. Eidsvaag Opal was part of a six-vessel order Damen built for the now-desolved offshore supply company World Wide Supply. Originally built as World Opal in 2013, the vessel is a Damen PSV 3300 CD design, with an overall length of 80 m, deck load of 1,500 tonnes and dynamic positioning class 2 capability.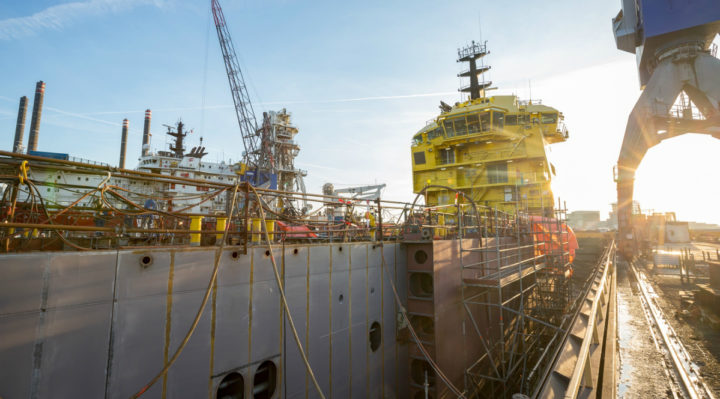 Conversion of Eidsvaag Opal required extensive steel work, including removal of the main deck, after which the vessel was cut in half and the subcontractor Mammoet moved the aft section of the vessel 10 m back to allow space to fit the new 4.9-m midsection.
Thirty-one new steel sections will be inserted into the hull and divided into sponsons and the new big bag hold. In total, 650 tonnes of new steel will be fabricated by steel fabricator Niron Staal and installed in Eidsvaag Opalwhile it is in drydock at Damen. The shipyard will remove 300 tonnes of steel from the ship's structure for the conversion.
The project will also increase the beam with side boxes to give additional stability and extra cargo capacity. Each side box will be 1.2 m. Damen will install 35 silos as well as cargo holds. When complete, the vessel will be able to transport 2,800 tonnes of feed at a time. There will be five new cranes and a discharger installed.
"It is really helping speed up the project with Damen already being familiar with the design of the ship," said Mr Eidsvaag.
Several laid-up PSVs have found new lives in other segments of the marine market in the wake of the prolonged downturn in the offshore oil and gas market.
Damen's previous track record includes converting a Damen Combi Coaster into a fish feed transportation vessel. This involved the shipbuilder shortening the vessel to provide the added manoeuvrability necessary for operating within fish farms. The vessel was then outfitted with 64 silos to transport different types of fish food.