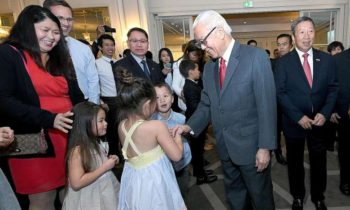 Norway may be over 10,000km away from Singapore, but it is also a place some Singaporeans call home.
Yesterday evening, 140 of them, together with their family members, gathered at Grand Hotel Oslo for a reception hosted by President Tony Tan Keng Yam.
Dr Tan, who is in Norway on a six-day state visit, told them that Singapore and Norway are "old friends and strong partners".
"All of you play an important role in bridging the large physical separation between Singapore and Norway with the warmth of people-to- people ties," he said at the event on the first day of his trip.
He had landed earlier at Oslo's Gardermoen airport for the first state visit by a Singapore head of state to Norway. During the trip, he will meet King Harald V and Queen Sonja of Norway, as well as Prime Minister Erna Solberg.
Dr Tan said Singaporeans based overseas play a key role in nation building. "We need to build on what we have achieved as a nation. Overseas Singaporeans like all of you play a very important role in our journey as ambassadors of Singapore."
He also encouraged those living in Norway to maintain close ties with friends and family back home.
"Against the majestic landforms, glaciers and fjords of Norway, a small tropical island such as Singapore may not immediately come to mind," he acknowledged, but added that home is just "one tap away" with tech devices such as smartphones.
Those at yesterday's gathering had been invited by informal word of mouth and via social media.
Some, such as Ms Lisa Salim Male, drove hours from other parts of the country to attend the reception.
The 39-year-old social worker, who lives in Molde with her Norwegian husband and three sons, said: "I'm the only Singaporean in Molde. It's important for my children to meet other Singaporeans so that they know where they come from."
Dr Tan said he hoped the reception – which was also attended by a business delegation from Singapore – would be the start of more regular meet-ups. During his trip, both countries are expected to ink 12 agreements in areas such as education and research. Dr Tan said he is confident that the agreements will pave the way for more exchanges between the peoples of both countries.
(straitstimes)