Oslo Open House is this weekend and shows architectur and art free to all, with opportunities to learn, discuss and debate with experts and citizens alike. Oslo Open House 2019 includes 147 places encompasses buildings, interiors, gardens, parks and outdoor spaces. The Open House concept was founded in London in 1992.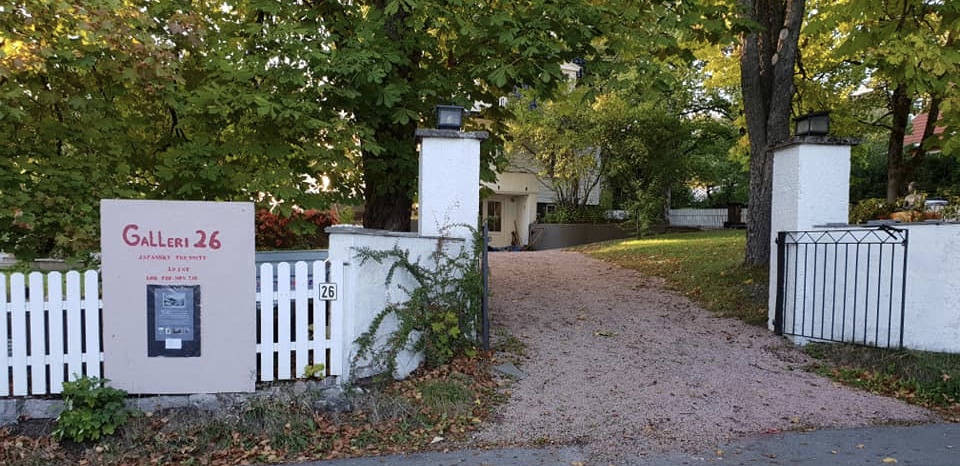 Photos credit Gallery 26
Gallery 26, Nils Lauritssøns vei 26 at Berg-Ullevål in Oslo is an outstanding project in the home and garden of Dag Hol and his Taiwanese wife Yachi. The house is one of Oslo's largest private residences with its 834 m2. The whole property is 2400 m2. The house was originally built as a New Baroque villa in 1928, later with extensions in the same style as the original house. It was mainly finished in 2017, but not completely finished inside. It contains a large studio, some rental apartments, and the Gallery 26 in the basement. The house appears as a museum of ancient Indian saris and other objects from Indian culture and from abroad. The aesthetics break with modern style and have a more exotic feel.
The garden has a Buddha figure, temple pond with carp fish, a fountain pool with a sculpture by Kirsten Kokkin, as well as a small waterfall.
Photo credit the Hol couple.
Yachi and Dag Hol are both artists and first met in summer of 2015 at Natioanl Palace Museum in Taipei, Taiwan, as both appreciate classical art from both Asia and Europe. The museum has the art from the Beijing palace of the Emperor of China, including paintings from the Song dynasty (960-1279 A.D.). One of the master pieces, Traveler in the mountains and streams by Fan-Kuan, had brought this couple together.
Shian-Yuan Yachi and Dag Hol married in Taiwan in February 2017. In Augsut 2017 they had a big cross culture wedding party with over 500 guests in the garden of Gallery 26 in Oslo with blessings from Catholic, Buddhist and Hindi priests.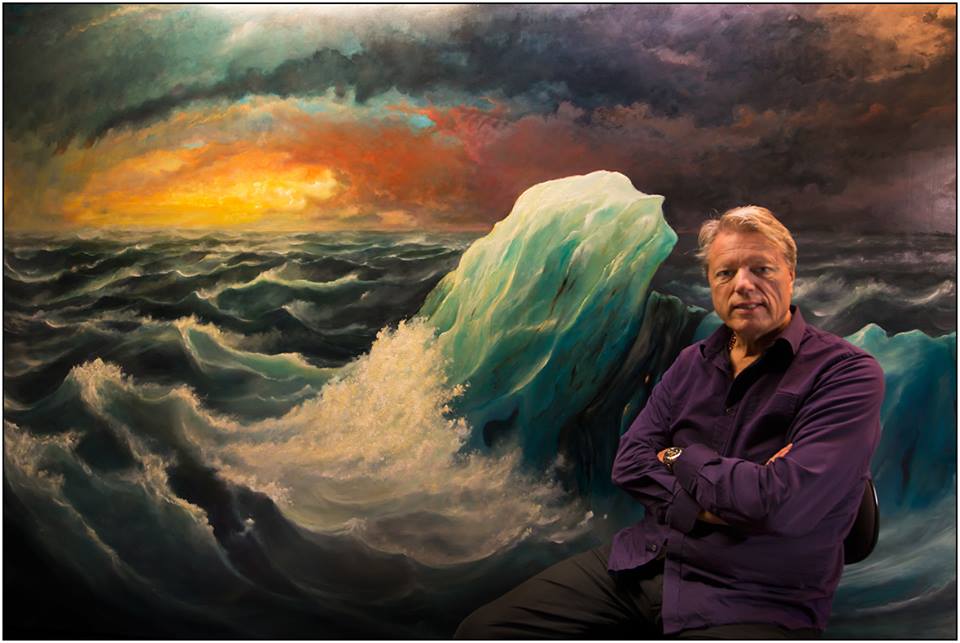 Photo credit Lions Nordstrand/Oslo (2014)
Dag Hol is a Norwegian figurative painter and graphic artist, educated at the National Norwegian Academy of Art from 1980 to 1984. He had his first solo exhibition in 1983 in Oslo. His work is influenced by the old masters, from Renaissance art to Romanticism.
– The theme and goal for my future paintings will be to search for the light in the paint, and through that, the light in my heart. Transcendence, light, substantiality, material quality, movement, colour, balance, expression, are all words which are parts of expressing the quality of my art, Dag Hol said in his speech at the Symposium of the 8th Beijing International Art Biennale in China this month.
Since the end of his teenage Dag Hol has practised yoga and Acem-meditation regularly. He studied Nordic, French and German languages and literature at the University of Oslo and later Indian, Chinese and Japanese classical art and philosophy. He has given several art-philosophical speeches in Norway, USA, India and Taiwan.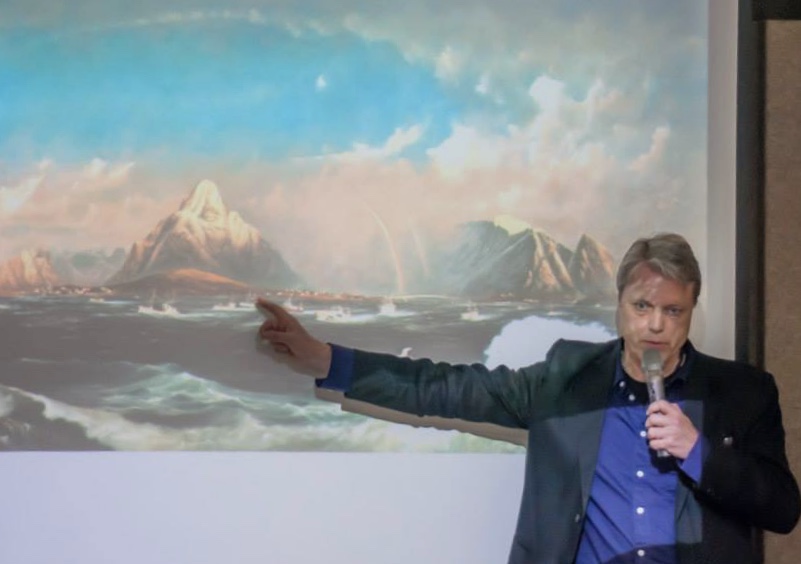 Photo credit Acem Meditation Taiwan.
The photo shows Dag Hol at a meeting organized by Acem Taiwan at the Taiwan National University in Taipei, October 2013, talking about The Art of Doing in art and meditation. Acem meditation is a non-religious, science based meditation technique for stress relief that the Norwegian Dr. Are Holen initiated in 1966 as a student organization at Blindern in Oslo. Today, Acem is active in Denmark, Sweden, Germany, the UK, the Netherlands, Lithuania, Spain, USA, India, Taiwan, Switzerland and Singapore.
One of the most visited exhibitions in Norwegian art history was Dag Hol's separate exhibition in Oslo City Hall in March 2012. More than 3000 people came to the opening and more than 21,000 people during the three weeks the exhibition was open. In 2016 Dag Hol held a new solo exhibition in the Oslo City Hall Gallery with as good a visit as in 2012.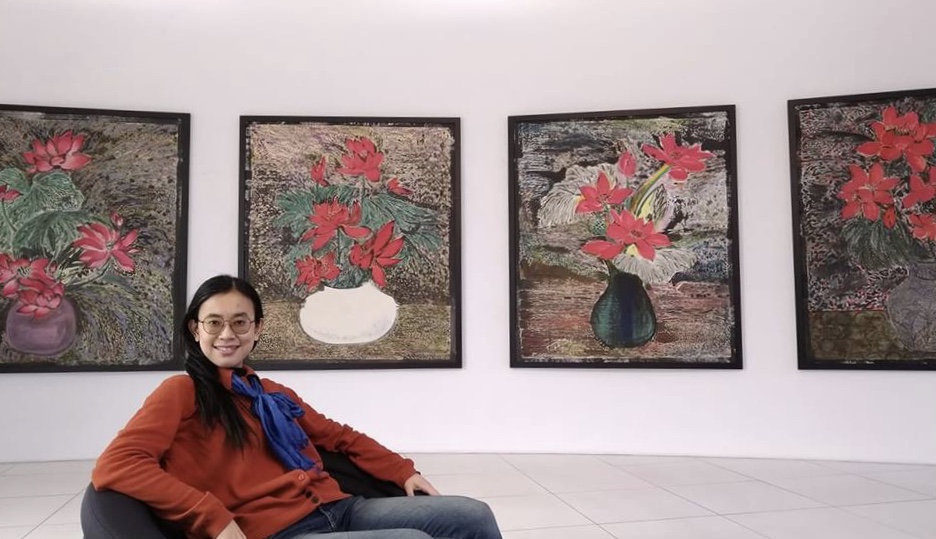 Yachi and paintings. Photo credit Shian Yuan Yachi.
Shian-Yuan Yachi graduated from Taipei National University of the Arts (BFA) and Tunghai University (MFA), becoming a professional artist in Taiwan. She has worked and researched as an Oriental ink calligraphy painter for 15 years.
She had works participated in AArt-Citizen Art Shanghai, Asia Contemporary Art Show, Singapore Contemporary Art Show, Chinese Contemporary Ink- Hong Kong Christie's and some other different exhibitions among East Asia during the years. She was also a contemporary art reporter in Taiwan. From October 12th to November 10th this year she will have a solo exhibition at 182 Gallery in Tainan, Taiwan.
As a hostess this weekend, she has invited other creative artist friends to show their works, while also presenting her drawings inspired by summer life in Oslo. The whole idea is to show their space interacting with artists in various fields, includes classical culture journal Civilization (
sivilisasjonen.no
) represented by Artur S. Nerdrum, film by Gianmarco Donaggio, clothing design by Eline Draesund, ceramics by Daniel Gillberg, paintings and massage opportunity by Jonas Landstad, and performance (14:30 both days) by Hazel Avellana. As a host Dag will certainly have his works in the gallery.