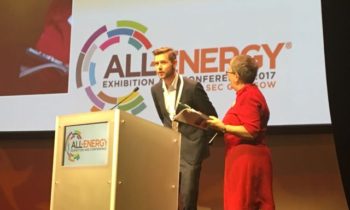 Norwegian tidal lagoon technology developer Tidetec has won the All-Energy Marine Energy Investment Challenge.
The company has bagged £10,000 worth of advice from lawyers and financiers to progress its plans to develop a 20MW two-way hydro turbine for tidal lagoons.
Tidetec beat off tidal stream developer Fraenkel-Wright, floating wind developers Oceanflow Energy and SAITEC Offshore Technologies as well as marine consultancy Ocean Energy Advisors.
Tidetec was chosen by a panel featuring Macquarie Capital, Ashurst, FTI Consulting and Cantor Fitzgerald chaired by Atlantis Resources chief executive Tim Cornelius.
"The panel was impressed by Tidetec's clearly set out investment proposition, business plan and realistic valuation," said Cornelius.
"The panel will be in touch to set up working sessions in London to assist Tidetec with its business plan for future fundraising."
Image: Tidetec chief technology officer Joachim Amland with All-Energy conference director Judith Patten (reNEWS)