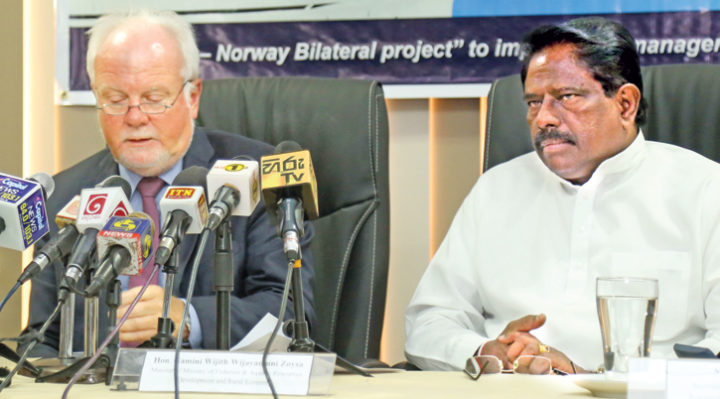 Marine research vessel Dr. Fridtjof Nansen will arrive in Sri Lanka on June 21 to carry out a research in Sri Lanka's territorial waters in the Bay of Bengal for nearly 26 days, accompanied by Sri Lankan scientists and researchers.
The vessel is owned by the Norwegian government and is jointly managed by the Norwegian Institute of Marine Research and the Food and Agriculture Organization (FAO) of the UN.
The vessel is one of the world's most advanced research vessels. The main purpose of the survey is to improve the knowledge base for sustainable resources management and to enhance the understanding of the marine ecosystem in Sri Lanka.
Addressing a media briefing held in Colombo recently, Norwegian Ambassador to Sri Lanka Thorbjorn Gaustadsaether said the Nansen visit gives an opportunity to highlight the good and longstanding development cooperation between Sri Lankan and Norway, especially on fisheries which started in 1971.
This also gives us a chance to highlight the importance of sustainable marine resources management and to discuss some key environmental concerns, such as marine littering and pollution as well as potential of blue economy.
The vessel is one of the most advanced research vessels in the world and brings together state-of-the-art technology with world class expertise on marine resource management. The first vessel visited Sri Lanka about 40 years ago.
With a world population that is expected to increase by more than two billion by 2050, our need to obtain resources such as food and energy from the oceans will continue to grow in the years to come, the Ambassador said.
The present Norwegian support to the fisheries sector includes assistance in developing a fisheries policy for Sri Lanka which has already been approved by the Cabinet. The implementation of the policy and the revisions of the fisheries legislation and institutional restructuring as appropriate will be important in time to come.
Norway also supports technical and institutional cooperation between the Institute of Marine Resources in Norway and NARA in Sri Lanka on sustainable management of fisheries resources in Sri Lanka.
(dailynews)