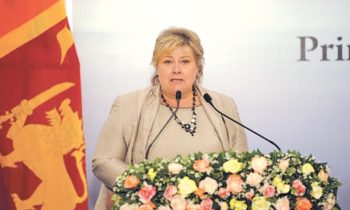 Co- Chair of UN Secretary-General Ban Ki Moon's Sustainable Development Goals (SDG) Advocacy Group and Prime Minister of Norway Erna Solberg said that development priorities of Sri Lanka are in line with the United Nations Sustainable Development Goals (SDGs).
The key goals in this respect are climate action, conservation of the oceans, peace and justice, gender equality and affordable and clean energy," she said.
The Norwegian Prime Minister Solberg said so while delivering the Lakshman Kadirgamar Memorial Lecture on Friday (12).
"Financing sustainable development calls for domestic revenue generation, combined with good management of existing resources and improved tax structures that eliminate tax havens," she noted, adding that, "This is not only a question of global leadership, but it is also a question of national and local leadership. At the same time, it is a question of international solidarity."
She said the business sector too is taking ownership of the SDGs, as a growing number of companies align their business strategies with the goals.
"I have learnt for instance that the Sri Lankan textile industry has initiated energy efficiency efforts," she pointed out.
"Today and every day, until goals are achieved, we must take concrete steps to make the world more sustainable."
"This requires leadership in all countries and at all levels of society," she said.
"There are already several examples of leadership within the private sector. Now political leaders should cultivate political wills. They must also translate political wills into legislation, policies and concrete plans. Then we must finance and implement the plans," she said.
"International development aid would be needed in the most vulnerable areas of the world to ensure that no one is left behind."
She said forced migration and harmful climate changes must be averted anywhere in the world and pandemics must be fought and put out if we are to achieve lasting peace. SDG efforts must be made throughout the world with equal intensity, she spotlighted.