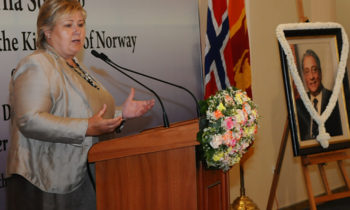 Norwegian funded research vessel is to visit Sri Lankan waters next year to carry out a marine stock assessment, Norwegian Prime Minister Erna Solberg said.
This would be the first time an in-depth research on fish stocks and a marine survey covering the entire sea of the country conducted in Sri Lanka, and Norway has consented to extend their support to Sri Lanka in this endeavour.
"Sri Lanka and Norway could work together through our fisheries cooperation on sustainable use of marine resources," Solberg said.
"We hope that the Norwegian funded research vessel Fridtjof Nansen will visit Sri Lankan waters next year to do a stock assessment."
The study will be carried out for a period of two years and the data will be used in assessment of fish stocks, especially in submission of recommendation of strategies for fish resources development.
She was delivering the Lakshman Kadirgamar memorial lecture on the theme 'Sustainable Development Goals: Working together for our Common Good'.
(N.Sethu)