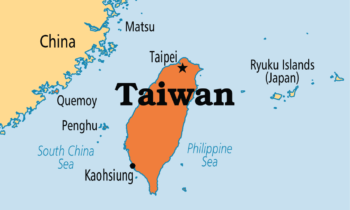 Up to 5000 people attended each meeting at Randaberg outside Stavanger in south west Norway during a week in July. Opening ceremony with female preacher, former Taiwan missionary Anna Sæther. The Norwegian Lutheran Mission (NLM) started in Bergen after James Hudsen Taylor visited Norway in the 19th century. Norwegian Missionary Society, working for Africa, was established in 1842.Santal Mission, working for India, was established in 1868. No mission in 1890 worked for China. So inspired by Hudsen Taylor, some young women started the Norwegian Lutheran Federation of China Mission. Men took over the leadership and females had no rights to vote. Their first missionaries were sent to China in 1891.
Anna Sæther was missionary to Taiwan (1974 – 2014). She had the opening speech at this year´s general assembly of Norwegian Lutheran Mission. Dominated by males, the mission now wants more females to talk.
Her book (photo) with stories from Taiwan was reprinted and sold at the General Assembly. (Read more on the link http://www.norwaynews.com/en/~view.php73cDmI58d6kjc672O95353Ew9884bDP94544Ibv084kTOI88eSQ738)
When The Peoples Republic of China took the power in China in 1949, all missionaries had to leave the country. The Norwegian NLM missionaries started work in HongKong, Taiwan, Japan and Ethiopian.
This mission has expanded to more then ten countries and changed name to Norwegian Lutheran Mission. NLM has cooperative missions in Denmark (DLM), Iceland (ILK), Finland (FLOM) and Faroe Islands. Representatives of these were invited among with representatives from NLM suporter Hauge Foreign Mission in the USA and native coworkers from the churches in Taiwan (photo), Peru and Kenya. During the general assembly a flag from each country hang outside the meeting hall.
§1 in the constitution still says that the mission "is working to spread the Kingdom of God, preferably among China's population." The board suggested to change this sentence, but the majority at the General Assembly voted against it. Since 1997 the mission allows females to vote, but the board is still reserved for men. It was this year proposed to lower the voting age from 18 to 16 or 15, but it didn´t win a majority.
NLM is the biggest mission organisation in North Europe with about 50 000 affiliated. Most of them are members of Church of Norway as NLM has not been a registered denomination. As some members don´t feel at home in Church of Norway, the board suggested to establish NLM as a domination. 548 voted Yes, 121 voted No. Male missionaries are often pastors abroad, but only preachers in Norway. Now NLM will be established as a domination, but not necessarily become one. It will not get many members as most of the activists within NLM will remain in Church of Norway.
Rogaland is the county in Norway with most varied scenery, from the plains to steep mountains and deep fjords. Jon Arne Helgøy and his daughter Helene invited all the foreign guests on a great sightseeing trip on one of his boats (http://www.helgoy.no) in the Lysefjord where they saw waterfalls and steep mountains including the world famous Pulpit Rock.
On Saturday NLM arranged a mission run to collect money for their work in West Africa. Each runner had sponsors who gave a certain amount for each lap the runner made. In the small rain, pastor Du became warm pushing his wife, but she got cold sitting in the wheelchair. They gave up after 3 rounds to get warm cloth. Sponsors for all runners gave almost one million kroner all together.
During the Sunday service the last day, the couple Marita Vold and Ola Aasland Vold was inaugurated as missionaries to West Africa. They have a daughter Elisabeth. Sitting next to NLM secretary general Øyvind Åsland the missionary family wear Norwegian national costumes.
NLM don´t have missionaries in Taiwan any more. Anna Sæther was the last one and left Taiwan last year. She worked in Taipei, Yilan, Taoyaun and Hsinchu. In Asia, NLM still have missionaries in Japan, HongKong, Macao, Indonesia and Mongolien.
Offering via mobile banking terminals during the last meeting gave nearly 1.7 million kroner for the mission work. During the days of Norwegian Lutheran Mission´s general assembly in Rogaland 2015, NLM got 4,5 million kroner in offerings.
Next general assembly will be in Kristiansand, south Norway, in 2018.
Mr. Geir Yeh Fotland – Taiwan National Correspondent NORWAY NEWS.com
Email: – [email protected], or [email protected]