The Norwegian Honorary Consulate General has moved to Norway House, the National Norwegian Center in America, the organizations announced today. The Consulate will occupy space in the current Albert H. Quie Center and will have a prominent presence in Norway House's new Innovation and Cultural Center.
"It is fitting and most appropriate that the Honorary Consulate General be housed at Norway House," said Eivind J. Heiberg, Honorary Consul General for Norway.  "Given the support the Norwegian government has extended to Norway House and its forthcoming expansion, it is the most logical location for those wishing to do business with the consulate."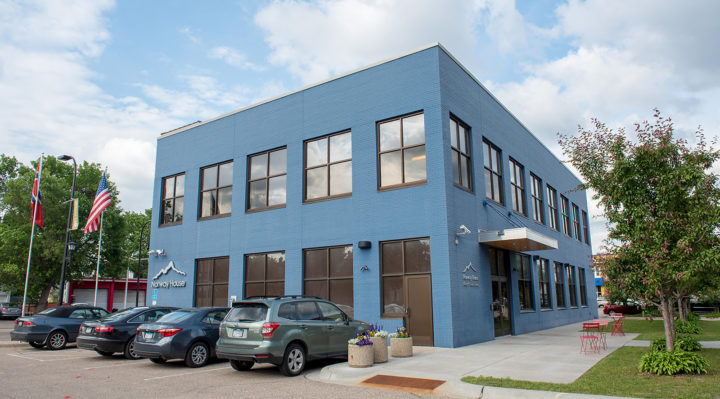 The Honorary Consulate General provides a range of services for people needing information on Norway and Norwegian-American relations. The Consulate provides passport renewals, can help with citizenship and pension applications and answer questions about visas and residence permits. In addition, it also facilitates business development, educational partnerships, and scientific collaborations between the two countries as well as serves citizens of Norway traveling to the Upper Midwest. The Consulate has a staff of two and was most recently located in Minnetonka.
"We are thrilled that the N,orwegian Honorary Consulate General has chosen Norway House as its new home," said Christina Carleton, Executive Director, Norway House. "This is an important milestone as we plan to break ground on our expansion later this year and fulfill our plans to be the National Norwegian Center in America. Additionally, its proximity adjacent to Mindekirken – The Norwegian Lutheran Memorial Church – centers the consulate in the heart of what was the historic Norwegian immigrant community along Franklin Avenue in south Minneapolis."
The Embassy in Washington, D.C. is the Consulate's superior career mission. Norway is also represented by Consulates General in Houston, New York and San Francisco.
"It is an exciting development that the Norwegian Honorary Consulate General will make its new home at Norway House in Minneapolis," said Kåre R. Aas, Norway's ambassador to the United States. "Norway House has been an important part of my many visits to the region. They understand the importance of connecting culture, business and education between Norway and the U.S.
The Consulate is open for appointments only at this time.
About Norway House
Norway House partners with individuals, organizations, and businesses in the Norwegian-American community to promote an appreciation for and understanding of the American Norwegian experience and its relationship to contemporary Norway and the world. Programs Norway House oversees include the gallery, The Edvard Grieg Society, Business Accelerator Resource Network (BARN), the Norway House Peace Initiative and the "Going Viking" award which recognizes the accomplishments of notable Norwegian-American leaders. For more information, please visit www.norwayhouse.org.