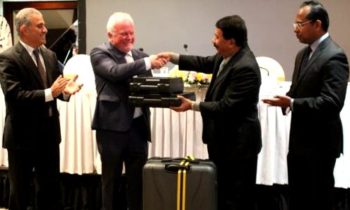 The Norwegian Geotechnical Institute (NGI), continuing its support to Sri Lanka's National Building Research Organization (NBRO) on disaster management, recently handed over some high tech equipment to be used in the Disaster Risk Reduction program.
Thorbjorn Gaustadsaether, Ambassador of Norway to Sri Lanka, handed over some equipment to Mr. S.S. Miyanwala, Secretary to the Minister of Disaster Management to be used in the Disaster Risk Reduction program. The event took place during the inaugural session of the National Building Research Organization, International Symposium 2016.
The advanced borehole antennas handed over at the occasion will be used to scan the ground between two boreholes. These antennas have been especially fabricated at NGI for use by NBRO to perform geotechnical investigations at geo-hazard sites and at upcoming infrastructure projects in the country.
A tailor made high computing machine, which was recently handed over to NBRO, under this technical cooperation will now be used to analyze vast amount of data collected from various landslide prone areas in Sri Lanka. The high computing machine will make quick and efficient three dimensional models of the mapped site in an accurate manner in a Geographical Information System (GIS) platform.
Under the Technical Cooperation facility, the Norwegian Embassy has supported the Norwegian Geotechnical Institute (NGI) to work together with the NBRO on disaster management issues since 2012. NGI and NBRO have worked very well together and made use of advanced Norwegian technology such as ground penetrating radars (GPR) and early warning systems through automatic weather stations which helped Sri Lanka in their disaster risk reduction efforts.
In his speech, Ambassador Thorbjorn Gaustadsaether said he is happy to know that this project continues successfully, in the area of climate change and natural hazards and this cooperation is a very good example of how experience and knowledge successfully can be shared between institutions.
(N.Sethu)