Norwegian Ambassador to Sri Lanka, Thorbjorn Gaustadsaether, during his fact finding mission to the Southern province last week, also visited the Hambantota International Port (HIP).
He was met by HIP's Chief Executive Officer, Ray Ren, who explained the opportunities that the port offered.
The HIP, which began operations in November 2010 incurred heavy losses, making debt repayment difficult, until it started making profits in 2016. In July 2017 the government reached an agreement to lease 70 percent of the port in a debt-for-equity swap with China Merchants Ports holding company (CMPort), which agreed to invest US$ 1.12 billion to revive the port under a Public–Private Partnership.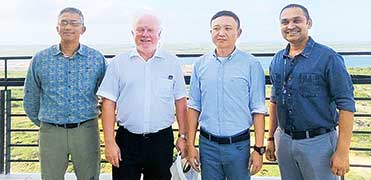 Later, it was decided that under the agreement, CMPorts will divest 20 percent of its shares to Sri Lanka Ports Authority within 10 years. In July 2018, the government announced that the naval base in Galle would be relocated to Hambantota, but it is yet to happen.
Ambassador Gaustadsaether also met with religious leaders, the business community, civil society workers and Southern Province Governor, Rajith Keerthi Tennakoon, with whom he discussed the recent tragic incidents and the political situation in Sri Lanka.
"It is encouraging to see all parties working together to keep their communities safe", he observed, after discussions with Buddhist, Catholic and Muslim religious leaders.
During the Ambassador's meeting with representatives from the Galle, Matara and Hambantota Chambers, the emphasis was on the role that the private sector has to play in the economic development of the region.
He also visited a project resource center run by Women In Need, which receives funds from the Norwegian Embassy and supports victims of domestic and sexual violence.
The Ambassador heard about the courageous work that the resource center did and also toured their paper recycling workshop. The Center's theatre group did a performance that created awareness about social issues affecting women in particular.