Adviser to the Russian President Anton Kobyakov and Norwegian Ambassador to Russia  Rune Resaland held a meeting in Moscow during which they discussed current issues concerning cooperation between the two countries as well as the format of joint work within the business programme of the 'Arctic: Territory of Dialogue' 5th International Arctic Forum, which will take place at the ExpoForum Convention and Exhibition Centre in St. Petersburg on 9–10 April 2019.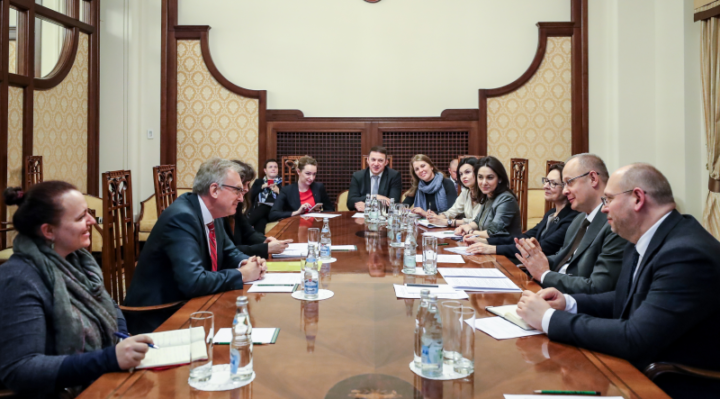 "Norway is committed to continuing a constructive dialogue and developing mutually beneficial relations with Russia. Norwegian Prime Minister Erna Solberg will visit Russia for the first time since 2014. Along with the Norwegian Minister of Foreign Affairs Ine Eriksen Søreide, they will take part in the work of the 'Arctic: Territory of Dialogue' 5th International Arctic Forum", Resaland said.
"For several decades, Russia and Norway have continued to cooperate in various fields, ranging from Arctic Council affairs and ending with environmental protection and radiation safety. We strive to maintain good neighbourly relations and welcome Erna Solberg's decision to attend the International Arctic Forum. I am certain that the Norwegian delegation's active involvement in the Forum's business programme will make a tangible contribution to the discussion of the pressing issues on the Arctic agenda. Ms. Solberg will join Finnish President Sauli Niinistö and Vladimir Putin as part of the plenary session", Kobyakov said.
"We hope that the visit will be a successful one. The Arctic plays a very important role for Norway, and we are actively working in this area. For us, this is a priority, and in many respects our views with Russia on the issues of the North are aligned. We are successfully cooperating in this area, so this event is very important to us", Resaland concluded.
This will mark Solberg's first working visit to Russia since attending the 2014 Olympic Games in Sochi. During the visit, she plans to discuss the development of the Far North and cooperation between countries of the Arctic Council. The programme of events involving the Norwegian delegation, including summits, will be announced shortly.
The key theme of the Forum will be 'The Arctic. An Ocean of Opportunity'. Three pillars will form the basis of the business programme: 'Coastal Territories', 'The Open Ocean', and 'Sustainable Development'.
Official website of the event: forumarctica.ru