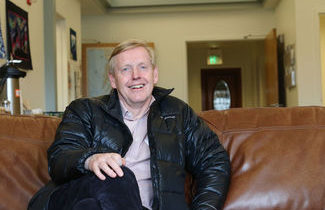 Kåre R. Aas, the Norwegian ambassador to the United States, is in town for Mayfest, and he cannot wait to meet and speak with locals.
"I'm looking to really getting to know the Norwegian-Americans and Norwegian's living here and who have been living here for many, many years," he said. "I've wanted to come here for a very, very long time."
Aas is well-aware of Petersburg's history and how influential so many Norwegian families were in creating the small, Southeast fishing town. And people in the Norwegian embassy in Washington, D.C. know of Petersburg's reputation for beautiful scenery, he said.
Aas will spend three days in town, and so far his objectives include an early morning fishing trip on Thursday. Afterward, it's all about taking in the Little Norway festival including participation in the parade on Friday.
"Part of my job as ambassador to the United States is to be with Norwegian-Americans, and this is the place to be," he said. "I also like, of course, to engage with Americans."
A group of Vikings met him at the airport, something that definitely made him smile. The overcast skies and scattered rain showers made him feel at home.
He has been in his position for 33 years, and finds motivation in meeting people with a shared heritage and learning about what part of Norway the people and their families come from.
"I don't want to retire because I like it so much," he said laughing. "I think people like to meet me because of my position. It is interesting to hear how they settled, how they made it and what their expectations are for the future."
Aas is used to taking a lot of pictures with people, so don't feel shy about asking. He took a picture with the Viking welcoming party outside of the airport, and for anyone wanting to see the photo or gain a little more access to Ambassador Aas, it's simple.
"You should follow
me on Twitter," he said laughing loud.