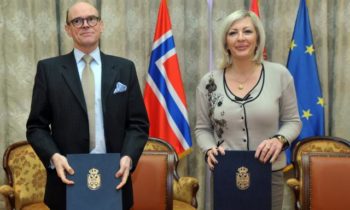 A Memorandum of Understanding was signed in Belgrade on Wednesday providing a EUR 2.7 million grant from Norway for various projects in Serbia.
The Serbian government announced this, adding that the document was signed by Serbian Minister for European Integration Jadranka Joksimovic and Norway's Ambassador Arne Sannes Bjornstad.
Addressing reporters in the Serbian government after the signing of the memorandum, Joksimovic "specified that out of the total sum, EUr 1.68 million is intended for the Serbian Ministry of the Interior for harmonization in the fight against cybercrime and drug trafficking."
For the project of strengthening units of Europol, EUR 78,000 have been set aside, and a direct grant of €380,000 will be allocated to the Ministry of Labor, Employment, Veterans' Affairs and Social Affairs, or inspectorates for the suppression of black labor, a statement added, citing the minister.
Joksimovic "recalled that Norway has been providing development assistance to Serbia for a long time, not only in the process of European integration, but in the overall reform process."
According to the government. in the last ten years, Norway has helped Serbia with more than EUR 100 million in grants.
(b92)