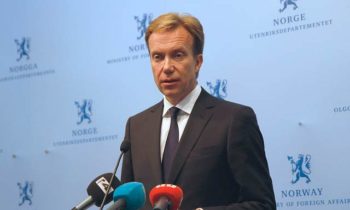 Norway will provide NOK 208 million in humanitarian aid to Afghanistan in 2016, twice as much as in 2015. 'There are still urgent humanitarian needs that are not being met. Eight million Afghans need protection and emergency assistance. Every single day so far this year almost a thousand people have had to flee their homes,' said Minister of Foreign Affairs Børge Brende, who is visiting Kabul today.
The humanitarian situation in Afghanistan is very serious, with armed conflict, extreme poverty and more than one million internally displaced people. The UN and the humanitarian organisations have only received 16 % of the funding they need for humanitarian assistance. Norway is now increasing the funding it is providing for food, water, sanitation, shelter and health care, and for schooling for Afghan children who are refugees or internally displaced.
'By doubling our humanitarian aid to Afghanistan, we are making it possible for our humanitarian partners to support even larger numbers of vulnerable people, particularly women and children,' said Mr Brende.
The Foreign Minister is visiting Afghanistan in connection with the high level Kabul Symposium on women's empowerment, which organized by the Afghan Government with support from Norway and the US. Mr Brende is also meeting UN Special Representative Nicholas Haysom and leaders of the UN agencies in Afghanistan. One important topic will be civilians' access to humanitarian aid. Aid workers in Afghanistan are at particularly high risk of attack and abduction, and the victims are often local Afghan employees. This year alone, five aid workers have been killed and more than 80 kidnapped, according to the UN.
'The result is that humanitarian aid does not reach some of the areas where the needs are most pressing. We urge all parties to grant civilians unhindered access to humanitarian support,' said Mr Brende.
The increase in humanitarian aid will be channelled via partners Norway has been cooperating with for many years, including the UN Refugee Agency (UNHCR), the World Food Programme (WFP), the Norwegian Refugee Council and Norwegian Church Aid. Norway will increase its support to the Afghanistan Humanitarian Fund in order to strengthen the coordinating role of the UN and ensure that acute needs are met quickly. Through UNICEF, Norway will assist in the reintegration of child migrants and refugees who are returning from Iran. Norway is also providing support to the International Committee of the Red Cross (ICRC), which provides medical assistance where no other health services are available. Through funding to the ICRC and via the Norwegian Red Cross, Norway is also helping the Afghan Red Crescent to build up its preparedness in local communities in all 34 of Afghanistan's provinces.
Press contact: Astrid Sehl, [email protected] (accompanying the Foreign Minister)