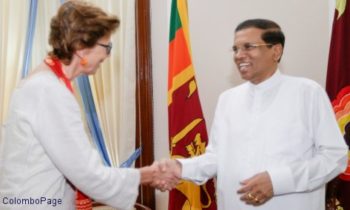 Norway is satisfied with the success of the government's 100-day programme, the Norwegian Ambassador Grete Lochen told the Sri Lankan President Maithripala Sirisena when she called on the President Friday at the Presidential Secretariat. The Norwegian Ambassador commended the initiatives taken by the President to establish good governance and restore democracy amidst various obstacles.
The Ambassador also praised the President for his speech made yesterday addressing the nation. She said the President's Address to the Nation yesterday clearly portrayed his dedication to take the country in right direction.
"It is well evident that the President is firmly committed to direct the country towards the right path," the envoy said assuring the fullest support of the Norwegian government to Sri Lanka to achieve its goals.
The President told Ms. Lochen that his dedication for the wellbeing of the country and the people will not change in the future.
Sri Lankan President expressing his gratitude to Norway for its positive attitude towards the new government thanked for their support extended to Sri Lanka during the conflict period to restore peace in the island nation.
(N.Sethu)