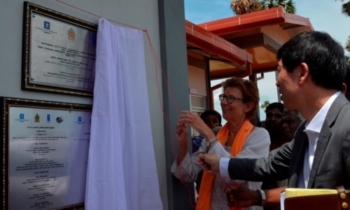 Norwegian Ambassador to Sri Lanka Grete Løchen together with the UN Regional Director for Asia and the Pacific Mr. Haoliang Xu, UN Resident Coordinator Mr. Subinay Nandy, and UNDP Country Director Joern Sorensen recently made a visit to Thampaddy fishing village in Kayts Divisional Secretariat in Jaffna District.The aim of the visit was to open a Crab Processing Centre and hand over the asset certificate to the Thampaddy Fisheries Cooperative Society. The newly opened Crab Processing Centre is a partnership of Thampaddy Fishers Cooperative Society and Annai Sea Foods (Pvt) Ltd. This intervention was facilitated by UNDP under the Northern Livelihood Development Project, funded by the Government of Norway.
This Crab processing centre will provide opportunity for the fishermen of 23 other villages in the Velanai, Karainagar and Delft Divisional Secretary Divisions in Jaffna, which are strategically located for crab and prawn fishing throughout the year. With the establishment of this Centre, around 600 fishing families are going to benefit with higher prices for their catch. Training on value addition of Prawn processing and food production principles have been provided to 35 members of the Fisheries Society and 25 women have received advanced value addition training. This intervention will provide employment for approximately 120 persons, majority of them being women.
"We have evidence to see that our efforts have been fully used in a more efficient manner and going to produce remarkable improvements in the social and economic development of needy families in the area. I am also happy to see that so many women have benefitted from our support. Investment in women is smart investment" the Ambassador stated at the opening ceremony.
The Ambassador also visited the Jaggery Processing Centre at the Kayts Palm Producers Development Cooperative Society, which is another intervention under the Northern Livelihood Development Programme implemented by UNDP and financially supported by the Norwegian Government.
The Ambassador met the beneficiaries of the Norwegian supported initiatives and witnessed how employment opportunities directly benefit members to increase their income and play an active role in the society. Women also reported that the alcohol abuse by men is reduced due to this initiative. Improving women's access to economic opportunities is prioritized by Norway in its development cooperation, as this will empower women to take part in the rebuilding of their societies.
(Norway.lk)