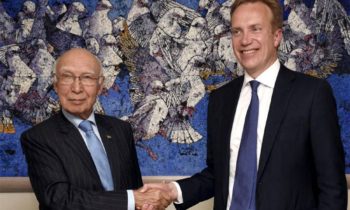 The Foreign Minister of Norway Borge Brende on Thursday moved away from making statement on Kashmir and Pakistan State terrorism, saying he is more interested in playing the role of a mediator.
Speaking at a joint press conference in Pakistan along with Adviser to the Pakistan Prime Minister on Foreign Affairs Satrtaj Aziz after holding a meeting, the Norwegian Foreign Minister said that both India and Pakistan are friends of Norway hence any statement in Islamabad on Kashmir will make the issue more controversial.
"We're available as friend of Pakistan as well as India's to play the role of a mediator and not add fire to what is going on [and] if I made a very strong statement, it will be counterproductive for any such role which Norway wants to play," he added. He said that Pakistan and Norway have agreed to enhance economic and investment relations for expanding trade and business in the better interest of the people of the two countries.
He was all praise for the Pakistani diaspora living in Norway, saying they are well integrated into Norwegian society, adding they are actively participating in politics, trade, and civil service. Brende said that ten Norwegian Companies, particularly Telenor are making investment in Pakistan, and are playing an important role towards boosting economic ties between the two countries.
He said Norwegian companies are interested in investing in solar and hydro energy sectors, for which, he added, he had very fruitful meeting with Pakistan Prime Minister Nawaz Sharif and others. He also said that Pakistan Trade Minister Khurram Dastgir Khan will participate in a conference being hosted by Norway in October, which will further help in exploring the areas where both the countries can make investments.
He said that Pakistan and Norway had very cordial relations, and he specific mentioned that for him celebrating 14th August, the independence day of Pakistan, was as if it is the second national day of Norwegians. Sartaj Aziz said that 50,000 Pakistani nationals are working in Norway in diverse fields. He said Pakistan and Norway enjoy very cordial relations based on commonality of views on a number of important issues. He said the relations between the two countries are following an upward trajectory, adding we have exchanged views on regional issues particularly on Afghanistan, India, and the situation in Kashmir.