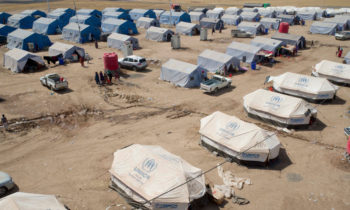 The Norwegian government will continue its humanitarian aid to the Kurdistan Region, said a Norwegian official on Tuesday.
The Head of the Foreign Relations Department of the Kurdistan Regional Government (KRG) Falah Mustafa met with the Norwegian Director and Head of Humanitarian Affairs Leni Stenseth and Senior Humanitarian Advisor at the Norwegian Foreign Ministry in Erbil.
Both sides discussed the current humanitarian situation in the Kurdistan Region with over 1.8 million refugees and Internally Displaced Persons (IDPs) being cared for.
"Stenseth assured [Minister Mustafa] the Norwegian government will continue their humanitarian support," a statement from the Kurdish Foreign Department's press office read.
"They briefed Minister Mustafa on the humanitarian plans for Syrian refugees and IDPs, focusing on gender-based violence issues," the statement continued.
Mustafa explained the financial crisis in the Region and the large number of IDPs and refugees created a substantial burden on the KRG.
Moreover, he mentioned the number of displaced people continued to grow since the start of the Mosul military operation on Oct. 17, 2016.
Mustafa emphasized the need for providing "logistical support for the Kurdish Peshmerga forces, institutional capacity building programs, and women empowerment training."
On Jan. 29, KRG Interior Minister Karim Sinjari released a statement calling for immediate and direct aid from the international community to prevent a humanitarian catastrophe in the Region.
The report pointed to the lack of proper shelter and medical care for civilians fleeing from Mosul to Kurdistan.
"The KRG has not only supported and hosted fleeing IDPs, but also provided leadership in planning humanitarian response and advocacy for resource mobilization," Sinjari added.
Refugees and IDPs in the Kurdistan Region make up 29 percent of the total population, and the number is expected to increase as the Mosul operation is ongoing.
(kurdistan24)