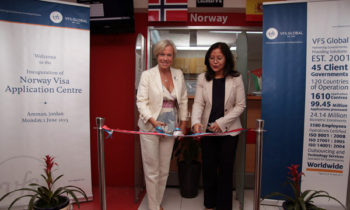 The government of Norway, in collaboration with leading outsourcing and technology services specialist VFS Global, has opened the first visa application centre (VAC) in Amman, Jordan. The Norway Visa Application Centre in Amman was officially inaugurated today by Ms Sissel Breie, ambassador of Norway to Jordan.Speaking on the occasion, the Ambassador said that the visa application centre will be the main channel in Jordan for submitting applications for visas to Norway, Denmark, Finland and Iceland, as well as residence permits to Norway and Denmark for persons residing in Jordan and Iraq.
"This is a major improvement in the processing of visas. We also expect that this will reduce the waiting times for those who still have to submit their applications at the Embassy," Breie said.
Yummi Talwar, regional head Middle East – VFS Global, said: "We are honoured to work with the government of Norway on a global level and aim to deliver an aligned and harmonised process cross all our centres.  VFS Global is committed to the highest levels of customer experience offering an accessible and safe process that is seamless and convenient."
This contract marks the extension of VFS Global's relationship with Norway in Jordan as the company already serves the client globally with 53 VACs in 17 countries.
The key features of the new centre are:
Conveniently located and easily accessible state-of-the art Visa Application Centres;
Longer operating hours allowing applicants to visit at a time of their convenience;
Professional and responsive staff with local language capability dedicated to handle visa application queries;
Automated queue governance for smooth flow of applicants, providing better crowd management;
Dedicated counters for applicants and travel agents/tour operators;
Dedicated website for easy access to information including visa categories, application requirements and checklists, and applicable fees;
Online appointment scheduling, and tracking of application status;
Dedicated call centres and email support to answer queries;
100 per cent secure handling of passports, documents and personal information and online feedback services for applicants;
SMS alerts for visa status update and door-step delivery of passports.
(TradeArabia)