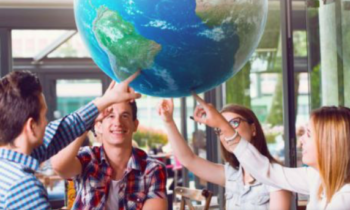 The head of Norway's biggest business university has decried the lack of government focus on attracting international students, warning that the nation is already "far behind" other European countries.
In an interview with Times Higher Education, Inge Jan Henjesand, president of BI Norwegian Business School, said discussion of attracting international students was "not existing" among policymakers, despite the fact there is a strong demand among Norway's higher education institutions. He said the sector believes attracting international students will improve Norwegian universities.
"Countries such as Germany, Denmark and the Netherlands have drawn up specific and targeted strategies for recruiting students from other countries," he said. "For these countries it is quite obvious that such strategies are essential in a knowledge-based economy. Norway is already far behind.
"The best students from abroad will strengthen the learning environment at Norwegian institutions, both for [themselves] and also for our Norwegian students. Most Norwegian institutions are focused on international students, but I don't see any strategy from the authorities [as] in other countries [where they believe] it's important to attract top international students."
According to the Database for Statistics on Higher Education in Norway, there were 25,424 overseas students on undergraduate and taught postgraduate courses at the country's higher education institutions in 2016. This includes students from Europe, including countries that are not in the European Union, and 10,157 coming from outside the continent.
Statistics Norway put the country's total number of students in October 2015 at 266,400, suggesting that international learners, including those from Europe, represent around 9.5 per cent of this cohort.
In contrast, non-EU students alone represented 14 per cent of all students at UK universities in 2015-16.
Around 10 per cent of BI's 14,453 full-time students are from outside Norway, but Dr Henjesand said he wanted this figure to increase.
"I wouldn't say it's difficult, but when we recruit international students, we not only compete with other institutions, we also compete with national strategies," he said.
He suggested government did not view international student recruitment as a priority, because they thought making higher education free for all students, including international ones, was more important. He also queried whether government viewed higher education as a valuable "export", despite the 2016 budget recommendations from the Norwegian parliament's standing committee on education, research and church affairs, to devise a strategy for attracting skilled overseas master's students. Two years on, Dr Henjesand said, this "hasn't been followed up".
"They spent a lot of money in the country [on higher education, so believe that's enough]. If they [thought international students were a priority], they would have followed up on the note in the budget," he added.
As recently as last month, Iselin Nybø, a Liberal Party politician and first vice-chair of the standing committee, sent a statement to the minister of education saying that the committee was "concerned" about government underestimating the "importance of getting skilled foreign students into degree programmes in Norway".
With a national election coming up in September, and as "most parties have this [matter] on their [policy] agenda", Dr Henjesand added, he hoped government might have a change of heart.
(times higher education)